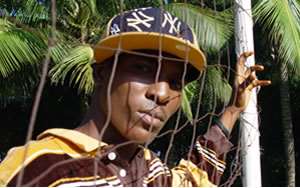 "Rain Rain" is the first single off Scizo's (pronounced Sizo) new album which he is still at work on.
Following cameo appearances on some "Last Two" mixtapes he put out his first album, Anything Can Happen, which got major street buzz but failed to be a commercial success due to label interference. After laying low for a bit, Scizo is back in the news again after the internet release of his first single of the untitled album. Scizo raps in Ga -- which is the main language of the people of Accra.
The song basically talks about the constant rotation of life's circles and hope. It was shot over a period of two days in a part of the capital that has a lot of deprived communities: James Town. The location is a more than 200 year old slave fortress that still houses some members of the community.
The concept sees the artiste having an out-of-body experience which takes him through a search for what he perceives as demons haunting him -- hence the masked figures. These masked characters also represent the obstacles he thinks are standing in his way. The vista shots were meant to capture the organic nature of Accra plus the texture to give it a unique identity. Some parts of the video were darkened during post production to reflect the dark nature of the artist's expression. In the end he realizes he is also one of the demons. So it's kind of like coming face to face with his fears.