May 2, 2009
|
General News
African Writers Honour President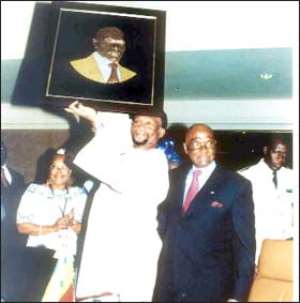 Prof. Atukwei Okai and President Wade African writers have lauded Maitre Professor Abdoulaye Wade, President of the Republic of Senegal, for the inspiring level of support that he has been giving to the promotion of African culture as well as for his dedication to the development of the African literary world.  
This was part of the remarks made recently in Dakar by the Secretary-General of the Pan African Writers' Association (PAWA), Prof. Atukwei Okai, when he presented a PAWA Bronze Portrait Plaque of Honour to President Abdoulaye Wade.  This took place during the opening ceremony of the third meeting of the International Orientation Committee of the third edition of the World Festival of Black Arts (Fesman III) which is to be held in Dakar, Senegal, from December1-14 this year.
Surrounded by his seven colleague writers, all members of the committee, Prof. Atukwei Okai cited President Wade's commitment as a Pan-Africanist and his drive for the political and economic integration of the African continent, as well as his relentless efforts aimed at achieving the inclusion of the African Diaspora as the sixth region of the African Union.
The writers who supported their Secretary-General in the presentation of the honour to the Senegalese President included the Beninoise poet, Prof. Noureini Tidjani-Serpos, who is also the Deputy Director General of UNESCO for Africa, the Gabonese novelist Prof. Justin Mintsa, Honorary President of the Gabonese Writers' Association and the Guinean poetess and playwright, Koumanthio Zeinab Diallo.
Others were Prof. Andreas Oliphant, novelist, literary theorist and President of the South African Writers' Association and the Nigerian actor, poet, playwright and Vice-President of PAWA for West Africa, Prof. Femi Osofisan. The rest were Mr. Alioune Badara Beye, playwright, President of the Senegal Writers' Association and General Coordinator of FESMAN III, as well as the poet, Mr. Mamadou Traore Diop, General Secretary of the Senegal Writers' Association and Deputy Secretary General of PAWA.
The meeting which brought together over a hundred writers, historians, anthropologists and fashion designers as well as journalists, artists, professors and linguists, also had the participation of the Ministers of Culture of Algeria, Brazil, Mali, Rwanda, Morocco, Togo, Mauritania, Nigeria, and Senegal.
After the formal opening by H.E. President Wade, Professor Iba Dar Thiam, a historian, Deputy President of the Senegalese Parliament and Chairman of the Scientific Committee, presented a paper on "Resistance in Africa and the contribution of blackmen to science and world heritage."