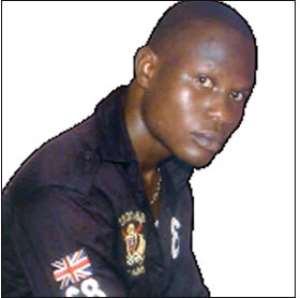 Frank Abeiku Andoh aka Dadie Frank Abieku Andoh, otherwise known as Dadie, an upcoming musician who was nearly beaten up by the youth of Agona Swedru and Konyarko recently, has revealed that his life is in danger.
The artiste told BEATWAVES that he was being harassed with text messages from a person who identified himself as Otu and claimed he represents the youth of the two towns.  
According to him, last week, he received two different text messages from a 054 number in which the sender threatened to take away his life after thanking him for defaming the two towns in his hit-song, 'Swedru'.
The text messages warned the artiste to render an apology to the people of the two towns or else he would be in a big trouble which could cost him his life.
The artiste said though he did not know the number, he suspected the messages came from some members of the youth group that threatened his life a few weeks ago.
Certain key radio presenters in the country who have been playing the song on their networks were also not spared as they were warned through text messages for supporting the artiste by way of airing the song.
The presenters included Ekow Puncho and B. Brown, both of Happy FM, Joe Digi of Peace FM, and Yaw Nkrumah aka Adwumawura of Hot FM.
When Ekow Puncho was contacted on the issue, he confirmed the story and said one Otu who sent the message said since he was supporting the artiste to drag the image of Agona Swedru and Konyarko into the mud, they would not spare his life.
On his part, Joe Digi also told BEATWAVES that he had received over 200 text messages threatening his life.
He disclosed that he had already made a formal report to the police who have launched an investigation into the case.
According to B. Brown, although his life was under threat, he would continue to play the song on air because he saw it as good song with good lyrics.
He said he did not see anything wrong with the song since it talks about the history of the two towns, adding, "I see the song as a creative work and in showbiz, we need to encourage creativity"
Meanwhile, Dadie had told BEATWAVES that his song was not meant to defame anybody or group of people, saying his duty as a musician was to come out with songs that will entertain everybody.
As soon as the song was released on to the music market, the youth in the two towns demonstrated against it, asking the artiste to withdraw it from the market.
They claimed that in the said song, Dadei made certain remarks about the two towns which they found derogatory.
By George Clifford Owusu