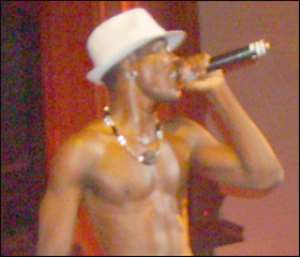 Tinny BEATWAVES has gathered that Nii Addo, popularly called Tinny, one of Ghana's favourite on the musical stage, will be part of this year's Hip Hop Awards being organized in Nigeria.
The Kanpke Record artiste, according to grapevine information, has been nominated for the Best African Artiste category of the 2009 edition of the awards which has been instituted to honour talents.
Officials of the event are thus expected to hit town very soon to formally notify Tinny about his nomination, a close source disclosed.
When contacted, Tinny confirmed to BEATWAVES that he had a call about the awards but was yet to get enough details about it.
Two weeks ago, Tinny's Ringtone song placed 13 on Radio Express World African Chart while this week, the remix of Asem's Pigaro featuring Caro was adjudged a 'Breaking Beat'.   
Last year too, Tinny topped the performance list. He was the only artiste to have outperformed his friends as far as shows were concern.
The Hip Hop World Awards ceremony was introduced by the Hip Hop World Magazine to annually reward and honour achievements in the recording arts, support the music community and to positively affect the lives of talented and the finest artistes in Nigeria and for that matter, Africa. Today, the feat embarked upon has become a reference point in the annals of Nigeria's entertainment industry. Last year, Samini was not only nominated, but also lifted the award home.
By Francis Addo