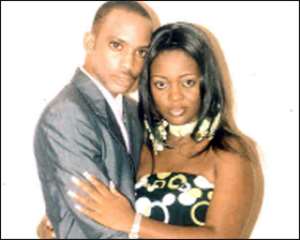 Vincent McCauley Jnr. and Jackie Appiah After premiering a couple of weeks ago at the National Theater in Accra, 'My Sister's Honour,' a movie produced by HM Films, will hit the market very soon.
The movie will be outdoored today with a number of activities including a brass band float across some principal streets of Accra to release it to distribution points as well as give the public the opportunity to purchase copies.
This must-see movie no doubt is a reminder to players in the movie industry that HM Films has returned with a bang after missing in action for almost six years.
HM has in the past brought a lot of stars into the limelight and produced a number of top-rated Ghanaian movies like 'Destiny', 'Fatal Decision' and 'Blood Sunday' among other award-winning movies.
It is back to enliven the standards and 'My Sister's Honour' blazes the trail. The movie was directed by Victor Emeghara  and stars top notch faces like George Williams, Grace Nortey, Jackie Appiah, Selassie Ibrahim, Vivian Achor and re-introducing Vincent McCauley-Max of 'Things We Do For Love' fame as well as introducing Akua of TV3's 'Ghana's Most Beautiful' fame.
'My Sister's Honour' is a story of two intimate friends, Ben (Vincent) and Angel (Jackie), who in their quest to achieve their hearts' desire ended up tragically. Ben and Angel promised to forever love each other; but things went wrong when Angel's sister Rosemond (Vivian Achor) returned from the States to have her first baby but sadly met her untimely death, leaving behind the little baby.  
In their quest to protect the baby and sustain the family, Angel's parents, Mr. and Mrs. Mills (played by George Williams and Grace Nortey) coaxed their second daughter into marrying her big sister's husband to protect her honor, which is the baby.
That was where all the suspense and intrigue began. Angel was torn between her parents' decision and her loverboy.
What transpired subsequently is a thing movie enthusiasts must see for themselves.
By Francis Addo