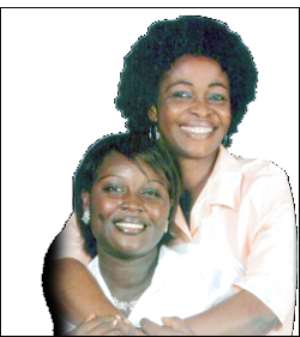 Halleluya Voices The names Joyce Kusi & Erica Serwaa Ofosu may not ring a bell, but if you remember Halleluya Voices, then you're already familiar with their first album which had songs like 'Onyame Na Aye,' 'Oteasefo Nyame' and 'Medaase'. Halleluya Voices offered an 8-track effort that quickly revealed them as worshippers with a clear motive to reach the heart of God.
The group delivers vocal excellence and a presence that connects with the hearts of every listener anytime you slot in their CD. From instrumentation, arrangement, mixing to mastering, one can tell that their new CD is classic.
'Hosanna Praise' is the title of the new six-track album, and it was based on real life stories and how God affects the lives of true believers.
'Me Nya Yesu,' literally meaning "I have got Christ," is the first song on the CD of this album. Listening carefully to the song, one would realize that it is a praise song to acknowledge what the Lord has done for mankind.
"God has taken us from nowhere and brought us somewhere; He is worthy to be praised," the group stressed.
This song was produced by Ghana Music Awards winner, Nacy.
Another well-arranged praise song on the album is 'Ayeyi Wura'. According to Joyce, she has been through a lot of problems, so for her to be alive today, all she can do is to praise the Lord.
The lyrics came into mind when she had to undergo a surgery but God being on her side, she was pronounced healed by a man of God and when she went to hospital, the doctor said she was indeed healed.
'Akpe Na Mi' which literally means 'thank you' is also on the album. The group wants to say 'thank you' to God for bringing them this far, trusting that He will not abandon them.
In 2005 after their first album, Erica thought she was going to die after a fatal accident she was involved in, but she came out alive and whole. "Instances of this nature inspire us to write songs and come out with albums to praise our Maker," she stated.
All live drumming and percussions were done by Kelvin Ato Addo and the backing vocals and harmonies done by Nana Yaw Koduah.
The album was recorded live at the A1 Studios and the music videos were shot by Phamous People.
By George Clifford Owusu