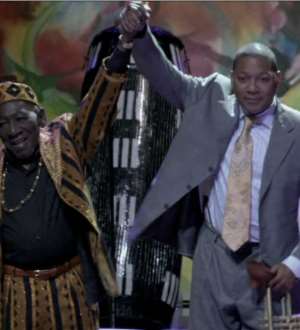 There were rumors of Ghanaian artists appearing in Obama's Inauguration, but only one musical group actually appeared. Ghanaian drum master Yacub Addy and his exceptional percussionand vocal ensemble Odadaa! appeared Monday 1/19/09 at The Kennedy Center in Washington, DC in LET FREEDOM RING: A CELEBRATION OF AMERICA, an all-star event honoring President Barak Obama's Inauguration and the birthday of Dr. Martin Luther King Jr. Featuring many famous jazz artists, this amazing event was presented by jazz titan Wynton Marsalis and retired Supreme Court Justice Sandra Day OConnor, narrated by film stars Angela Basset and Courtney Vance, and performed for an audience of VIP invitees. Noted journalist Peter Lamptey did a preview article on the event on Voice of America's website and interviewed Mr. Addy on the radio that day.
Yacub Addys Odadaa! appeared with the one and only Wynton Marsalis and his Jazz at Lincoln Center Orchestra performing the dynamicAjeseke, a piece fromCongo Square, the ground-breaking two hour co-composition by Yacub Addy and Wynton Marsalis that honors the historic Congo Square site in New Orleans, the only place in America where African slaves played their own music and danced on Sunday afternoons for over a hundred years from the 17 1800s.
Much information on Yacub Addy and Odadaa! and links for the Congo Square CD and DVD can be found at:http://www.yacubaddy.com.