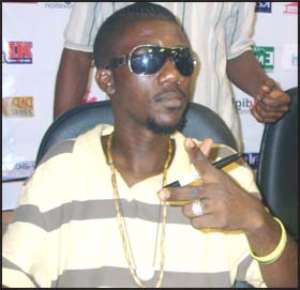 Tic Tac THE KANGAROO crooner celebrated his ten years of being in music with the signing of autographs and photo sections with a number of his fans at the Accra Mall last week.
This weekend, the ten years anniversary which coincides with the launch of Tic Tac's new and sixth album titled '10th Day' would continue with another autograph and photo section at the premises of Melcom at North Kaneshie, and later to Cape Coast, the Central Regional capital, to entertain fans there, particularly those at the Cape Coast University.
In an in interview with BEATWAVES about his experience after ten years of being in music and what his prospects are, Tic Tac could not hide his ill-feelings about how Ghanaian event organizers and promoters had been unfairly treating Ghanaian musicians.
According to him promoters don't take musicians serious and it is about time that anomaly was corrected.
"Throughout my ten years in music, from all the stages that we have gone through; for example, when we used to play pure hiplife, and then changed to Afrobeat and now it is reviving itself again, I have realize that promoters have not been serious with us, musicians. They don't listen to us. They do what they want for us and not what we want from them, let alone the two of us coming to one agreement especially on matters of contracts."
This, he explained, was a sign of total disrespect to musicians.
According to Tic Tac, he had always fallen victim to this practice, saying "I have fallen victim to this many times. There are times when they tell you take this amount, and that they will settle the rest after the show. Before you could hear, they drop you for another artiste. It is appalling."
Even though he was not emphatic on what measures to take, Tic Tac said event organizers must refrain from the practice as that would not help add value to music in Ghana, and that he sees a brighter future for Ghanaian music.
"Even though there are ups and downs here and there, I think there is always room for improvement," he stated.
Tic Tac's new album contains 19 tracks in which he featured Key Note, an artiste from Nigeria, Asem, Sarkodie, Tinny among others. By Francis Addo