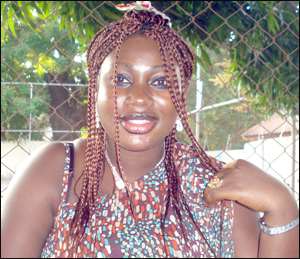 Philipa Baafi KOFI KARIKARI, manager, producer and husband of sensational gospel super-star, Philipa Baafi of 'Go-High' fame, says he believes the death threat that had been issued on the life of his wife is not a joke and that the perpetrators of the threat may be trailing the movement of the gospel diva.
He said the faceless people were able to tell rightly the movements of Philipa and had further threatened to kidnap their triplets who are barely a year-and-a-half old, if the music star ever performs any song for the New Patriotic Party (NPP).
Speaking to DAILY GUIDE yesterday, Mr. Karikari said on the twilight of last Sunday, he and his wife were leaving their Dansoman residence when he received a message from an MTN number which stated: "The next time you perform for the NPP on stage, we would shoot you for the stomach musicians to learn a lesson. If you dare tell the media, we would kidnap your triplets".
The Manager said he and his wife, after receiving the message, went to the Dansoman Police Station to lodge a complaint but the moment they were leaving the station, they received another message which indicated that the sender of the message was nearby and would never miss should he shoot, thus the Police would not be of any help.
The message read: "Why are you not picking our calls? We are too close to miss. The Police can't protect you. Forget them. Even if we are arrested, you would be shot."
According to the star, though she was worried by the message, it would not deter her from going ahead with her career as a musician.
In a related development, the leader of the Lighthouse Chapel International, Bishop Dag Heward-Mills, told his congregation last Sunday that "a very important person in society" had advised him to run away from Ghana because he was about to be killed.
"I got a call from a very important person in society and he told me that I am also on a hit list and that he was going out of the country so I should do same," Bishop Heward-Mills had noted.
The popular Christian leader who is reputed to own the biggest cathedral in Ghana was further reported to have said that he would never run away from Ghana on account of the threat because he believes he had not done anything wrong to make any person want to kill him, and added that "we must eschew politicians who seek to divide us as a people along tribal lines and hold on to our oneness as Ghanaians in spite of which ethnic group we belong to".
In an earlier interview with DAILY GUIDE , Philipa Baafi had said  that she was not the least worried that she had given her song to the NPP because other political parties were using the songs of some other Gospel musicians.
"I am not worried at all that the NPP is using my song; it is a popular song and I hear it is even played in some clubs so I am not worried a political party is using it.
"The National Democratic Congress (NDC) could have used it as well.
"They are using Pastor Lennie Akpadi's 'All Other Gods', so if the NPP was fast enough and they chose to use my 'Go High' to support their campaign, it is very cool with me.
"Look, that song is very inspirational and encourages people to go higher in whatever field of endeavour they are, and if the NPP is using it to tell Ghanaians to go higher with them, I am cool with that."
By Halifax Ansah-Addo