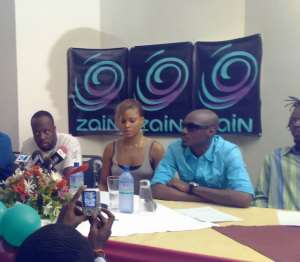 US based Haitian hip-hop superstar Wyclef Jean and top female rapper Eve have both promised Ghanaians of an amazing performances tonight at the highly anticipated 'Zain 026 Experience' concert to be held at the Ohene Djan Stadium in Accra. Both artistes, who are in Ghana performing for the first time, have expressed excitement about their visit and they look forward to having a memorable time with fans at the Ohene Djan Stadium.
"It is an honour to be here in Ghana, the number place in Africa for me…we came to do our thing…We are excited to be here", said Wyclef. while Eve remarked, "I am very happy, very pleased, very honoured to be here in Ghana…I have been wanting to come here for a long time…thank you for having me…come out for the show, you will surely have a good time".
They made this known at a press conference at the African Reagent Hotel, yesterday November 21. Also present at the meeting were 2face Idibia, Obrafour, Kwaw Kesse and Tinny, all billed to perform at the concert. US R&B singer, Mario jets into Ghana today so was not present for the press conference. However, patrons at the concert would get a once in a lifetime opportunity to hear the crooner perform a number of hit singles.
Kwaw Kesse Challenges Wyclef to collaborate with him
The outspoken and highly unpredictable self proclaimed 'King of the Streets', Kwaw Kesse has challenged hip-hop superstar Wyclef Jean to collaborate with him on a track before leaving Ghana. Kwaw Kesse threw this open invitation to Wyclef in the full glare of Ghanaian and international media during a press conference ahead of the Zain 026 Experience concert.
"I hope Clef is going to be on his toes to do a song with Abodam! The studio is available Clef", said Kwaw Kesse to the amusement of Wyclef and everyone. This would be a great opportunity for the reigning Ghana Music Artist of the year, who forfeited the opportunity to perform at the maiden edition of the MTV Africa Music Awards in lieu of the Zain 026 Experience concert featuring Wyclef, Eve, Mario, 2face, Obrafour and Tinny.
When asked his reason for foregoing the MTV awards in spite of the amazing opportunity to grow as an artist using MTV as a platform, he answered that "I am the King of the Streets in Ghana so I had to put my people first. I had to show Ghanaians love". The Zain 026 Experience concert will take place at the Ohene Djan Stadium in Accra, Saturday November 22.