November 14, 2008
|
Entertainment General News
Four schools for drama contest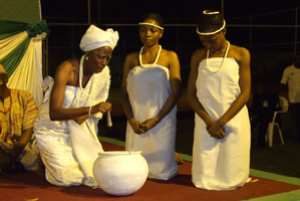 Four Senior High Schools in Accra will lock horns in the grande finale of the debut edition of Drama dot com, an inter-schools drama competition for the Greater Accra Region, at 10.00am at the National Theatre tomorrow, November 14.
The competing schools are Accra Academy, O'Reilly, Accra High and Holy Trinity. Students from Mfantsipim School, which did well at the just-ended Joe De Graft Students Drama Festival in Cape Coast, will be in attendance as guest performers.
A statement from the National Theatre, sponsors, pointed out that the competition, which is intended to increase the appreciation of drama in high schools, will later be expanded to cover more schools across the country.