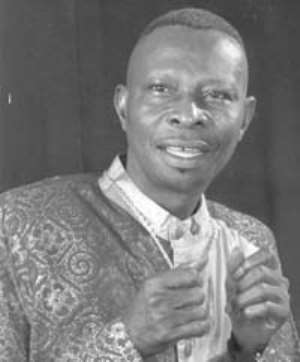 Akwasi Ampofo Adjei's sterling achievements in the field of drama and music are outstanding and for almost three decades, he has been in the fore-front of high-life music. No doubt he deserves to be mentioned in honours as one of the most successful musicians who has paid his dues.
Having been greatly influenced by his parents and support of choral groups like 'Soul Believers' and Rainbow beats," a foundation was laid for the great tomorrow he envisaged.
Initially, as a teacher by profession the domineering influence that music had on his life could not be resisted and so gave in and abandoned the teaching profession, and went straight into the music industry and recorded his first track, a single called 'Obiara nfan'adwene mbra', literally meaning let's put our heads together. When the two musical groups were dissolved, he was compelled to form his own band, Kum Apem Royals, a group which was going to influence the lives of other equally great musicians, and later recorded two 'Wo ye Ananse a meye Ntikuma'. This became the foundation and opened up the flow of some of his great hits that were to pass the test of time which included 'Girl bi nti' meaning because of a certain girl; Opuro Kwaku (Kwaku as a squirrel) 'Time Changes', 'Ehye wo bo', 'Fa no saa' (let it be) 'If you do good you do for yourself' 'Ebe to Da' (Time will tell).
Akwasi recorded nearly 40 singers and about 35 albums. Blessed with an inborn gift of proverbial lyrical capability and a great sense of innovation through his music he has given comfort, solace and indirect advice to humbled hearts and victims of indecision of life.
His life has been decorated in the glittering awards, some of which came his way in 1985 when he was voted the 'Best Band Of The Year', given a certificate and a silver cup for keeps.
In a progressive march towards stardom, he won the leisure Award for his band being voted the 'Band Of The Year. Five years later, he was among ten selected bands awarded and honoured with a citation read and a presentation of a large Sharp product of a tape recorder as his prize made by the National Commission on culture.
Advertisement
It was like a bombshell when it was made known to him that his track a high life hit 'Wo tee tee me mfa to ha' had been voted the best high life song of the year. As if the floodgates of fortune had been flung open, as he was honoured with a cash prize of ¢500,000 in 1990 by the oversight committee of COSGA in recognitionof his immense contribution to the improvement of the music industry in Ghana.
As a sign of appreciation of Akwasi Ampofo Adjei's music talent and industry, gift of a brand new Bedford truck was given to motivate him by Kofi Owusu aka owner. It then became a gift galore showered on him, becoming more tremendously influenced and inspired when it was the turn of A.K. Brobbey who donated a set of musical instruments to boost his musical effort and then another undisclosed donation by a Mr Asensu.
One of the landmarks in the success story of Akwasi Ampofo Adjei is the professional handling of his music products by Isaac Taylor whose sterling qualities helped to bring A.A.A. out of the 1980's music groove to retain his limelight to still become a hot and marketable material up till today in his albums. Much of his achievement has been due to the kind of relationship which subsisted between Isaac Taylor and A.A.A. and worked for good in preparation any time he was going to record in the studios.
Taylor influenced Akwasi greatly and took him on a tour to Germany, Holland, France and the UK. Other places he has toured in Africa include Ivory Coast, Togo, Liberia, Nigeria etc. Speaking to this correspondent he mentioned stars who have passed under his tutelage, including Abrantie Amakye Dede, Charles Kwadwo Fosu alias Daddy Lumba, K.K. Kabobo, just to mention few. Akwasi said he is thankful to GOD for having made him a man of music substance to be respected and recognized. some of the few he always revers as having been of great inspiration to him includes Afua Biama, propritress of a chain of eating bars and restaurants at Kokomlemle and Achimota.
Akwasi Ampofo Adjei's death at the Komfo Anokye Teaching Hospital in Kumasi was reported last Monday after a short illness.
He was 57. The late A.A.A. was travelling from Mampong to Kumasi to attend Court when he fell into a coma on reaching Tafo, the outskirts of Kumasi. He was to give evidence in a Kumasi court in a case in which a David Kwabena Afriyie, a Kumasi-based gospel musician, is standing trial for pirating his (deceased's) album titled "Abuaba".
Burial arrangements will be announced later. Through his music Akwasi Ampofo Adjei still lives on.