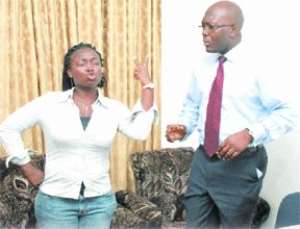 The newest commercial on Joy FM radio that has attracted the attention of many listeners for the past few days has been that of Unhappy Wives, Confused Husbands the title of a play that is scheduled for the National Theatre on Saturday, September 6. The bit on radio has been the perfect attention catcher:
Did you say we were getting on fine? That this week has been great? For who? For you? Tell me, how many words have we exchanged this week? Monday morning: 'I'm off'. How many words are that? I am off. Three words.
"Monday evening: 'Good evening' Two words. Tuesday morning: 'I am off.' Three words. Tuesday evening: 'Good evening.' Two words. How many so far? Ten.
"Wednesday morning: 'I am off.' Three words. Wednesday evening: "Good evening." Two words. Thursday morning: "I am off "…. Wait. No. This Thursday even that did not come. Why? Because you were upset that I did not allow you to have sex with me."
As intriguing as the snippet of dialogue suggests, the writer and director, Ebo Whyte sees the theme of the play as serious. Having been a marriage and relationship counsellor for more than 20 years, he sure knows what he is talking about.
"We go to school to learn how to be professors in various occupations, but in the area that is most important than a job - marriage - there is no school for that.
"It is assumed that when one reaches the ripe age of 22 years or more, one is expected to jump into marriage, while we forget that people need to be prepared for marriage and the issues that crop up during the marriage.
Men and women are different and these differences are supposed to enrich the relationship and not to drive them apart", he told Showbiz last Tuesday.
Informed by the current trend of marital problems and the need to avert them, Uncle Ebo (as everyone calls him) said "the play is a distillation of all the lessons that have come before me in the 20 years of marriage and relationship counselling."
He referred to the play as 'Marriage 101' and described it as a refresher course for the already married, an orientation for newly married and those preparing to marry, and an exposure for those who are nowhere near getting married in order to help them to be realistic in their expectations.
The play revolves around the 40th wedding anniversary of Mr and Mrs Afriyie who have three adult children–two girls and a boy. One of the girls and the boy are married while the other girl is not married but a successful lawyer.
On the day of the celebration of this unique anniversary, all three children return home but soon their parents realise that each child had issues that they were struggling with.
The married girl comes home with a briefcase determined not to go back to her husband and the boy is confused about what the wife wants from him.
As the children struggle to come to terms with their marital problems against their parents' successful and long-lasting marriage, certain concerns are raised: Will the anniversary come on as planned or will it go up in flames as the married children go at their spouses with bitterness and anger?
According to Uncle Ebo, the play would take the form of a normal live performance where music will be injected to give it more variation.
With such a play one would expect that the well-known artistes in the industry would be the main characters or take the lead roles, but that is far from that. "The characters are a combination of trained actors from the School of Performing Arts, Legon and people who have acting in their blood but never had any training," he said.
Ebo Whyte is the publisher of Rover Report, a monthly magazine that reports on values, attitudes and faith for discerning people. He has 17 plays to his credit and has been writing and directing plays since 1975. His plays include: Wedding Behind Closed Doors, Mr President Your Move and Devil's Wife.
By Hilda Owusu