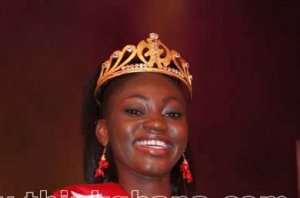 Kwaw Kesse get dissed
So my boy MO JA hit me with this one. Shout out to you bro representing the tripple X city Amsterdam. Keep us talking.
Word on the streets is that a hot Ghanian/Dutch MC by name Killa Vii took offense of something that Kwaw Kesse said so he went on wax and did what he does best, write some bars to express how he feels about Kwaw Kesse. The hook is pretty tight and I wonder if Kwaw is going to respond. I haven't heard what started this as well so if anybody out there care to share....holla at cha boy. It is quit interesting because a healthy beef is a good challenge for our artist to give us good music.
Listen to the hook and be the judge yourseld.
Barack Obama Getting some love from Ghana
You got to feel this. Aspiring democrat presidential candidate Senator Obama is also getting some love from Ghana.
Miss Mawuse Appea new Miss Ghana
I congratulate the latest crowned Miss Ghana Mawuse Appea....killing smile she got there...I hope she will ask me to carry her bags when she starts her duty as miss Ghana...lol
Hit me with your rumors, comments or suggestions at [email protected]
You keep us talking.
Out!!