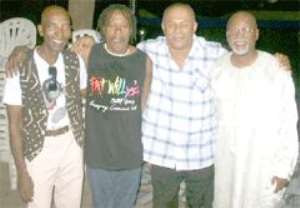 Thirty seven years after going their separate ways, four original members of The Magic Aliens band which brought a lot of style and sophistication to the local pop scene in Ghana the in the late 1960s and early 1970s, have come together again.
This was made known in Accra by Carl Ricky Telfer, then leader of the band, who is on holidays in the country from Canada where he is based. He said the main aim of picking up from where they left off is to record their brand of Afro-rock music which they believe can make a mark on the international scene.

Started in 1968 and originally made up of Carl Ricky Telfer on guitar, Malek Crayem on keyboards, Amartey 'Lash' Hedzoleh on bass and lead vocals, Afrikabi 'Smart Pozo' Aper on drums, assorted percussion and lead vocals, Reyad Couri on rhythm guitar and Nadim Tabica and Roberto Hutchinson on vocals, the Magic Aliens unleashed a vibrant style that incorporated delicate rock patterns and absorbing African rhythms.

The Magic Aliens were very much in demand and were engaged nearly everyday of the week at the height of their popularity. The group had been pared down to Telfer, Malek, Amartey and Aper by the time of the Soul to Soul concert at the Independence Square in Accra in 1971.

The four featured alongside some of the world's best acts including Ike & Tina Turner, Roberta Flack, Carlos Santana and Wilson Picket at the famous concert and it is those four, all in their early 60s now, that have re-grouped to record.
The Magic Aliens had a sizable following. Among their fans and close associates at the height of their career were the late ace sculptor, dramatist and musician, Saka Acquaye, Mr & Mrs Jerry Rawlings and the New Patriotic Party's presidential candidate, Nana Akuffo-Addo.
Right after the Soul to Soul concert, Malek and Telfer travelled to Germany and Canada respectively for further studies. Guitarist Nii Sai 'Jagger' Botchway and keyboards player Lesley B came is as replacements for them.
A near-fatal car crash involving Amartey Hedzoleh and misunderstandings after the accident saw the demise of the Magic Aliens.
Aper went on to form Zonglo Biiz, Nokoko and now Bawasaba. Amartey put together the Hedzoleh Sounds after leaving Magic Aliens but had left the group before the involvement of Hugh Masekela and subsequent stardom in America.

In Canada, Telfer pursued his computer studies and still found time to team up with other Ghanaian musicians, including Dr. Sogah, a retired dental surgeon and former bassist of the Ramblers Band, to form the Oketeke Band.

Working from his Oketeke Recording Studios, he has produced albums for several Ghanaian artistes, the most popular being Sika Ye Mogya by Pat Thomas.

Malek came back to Ghana after his studies in Germany. He plays regularly at jazz joints in Accra with his trio called Malek and Friends and also owns the Y2K, Soundz Unlimited, Serenades and Qu'est-ce Que C'est bands.

High on the re-grouped Magic Aliens' priority list is to re-record and release again some of their favourite compositions including the best-known track, Blofonyo Bi Wo Atale.

That piece and others like We Are Laughing, Extraordinary Woman and Homowo were recorded in Nigeria when the band was on tour there in 1970.

"We are all songwriters and have gained a lot more experience over the years. We have had some rehearsal sessions recently and have more than enough material to consider when we get to the studio. People should listen out for us in the coming months," Telfer told Showbiz.
It is quite clear that the Magic Aliens were several years ahead of their time during their peak. Whatever time and creative abilities they invest again in this comeback exercise should be good enough to catch fire and meet the ever-increasing international demand for good quality music from Africa.

By Nii Anum Telfer