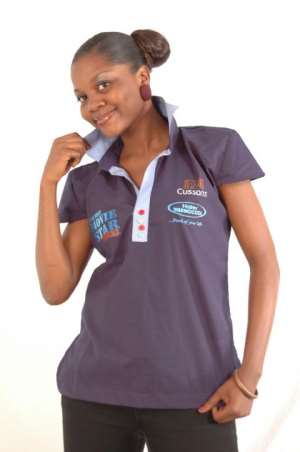 The recently concluded Next Movie Star 2007 as organized by Digital interactive Media (DIM) has as its focal point, creation of viable and formidable platform for all participants to become a movie star and a force to reckon in the Entertainment Industry as a whole, all they need do is to simply express their attitude. That has been yielding the needed results even from the House. One will not hurriedly forget how Martha Ankomah landed herself a movie contract with A- List Movie Director in Nigeria, Imaseun Lancelot.
And just yesterday, one of the sixteen housemates, Adesewa Ogunleyimu has been given an invitation to express her attitude at a programme tagged "Kingdom Lafta" in Lagos. Adesewa, one of the beautiful and astounding faces in the house, got evicted at the semi-final of the NMS 2007, to many; her eviction was surprising and unbelievable. She took it as one of the challenges of life and moved ahead with her life.
Succour seems to have come the way of the University of Ado-Ekiti (UNAD) graduate, as a gospel group invited her to a programme slated for November 1st, 2007. Apparently in their quest to take gospel dissemination to more audience out there, the Glorious Performance Drama Group (a.k.a Youth Drama of Christ Apostolic Church, Agege, Lagos) has perfected all plans to unleash to youths and people out there what it tagged "Kingdom Lafta" . The group is collaborating with B-Brat Entertainment to assembly known and up-coming gospel comedians, to treat people to bone cracking jokes and hilarious time out.
The coordinator of the drama group, Sanya Babalola expatiated further on this "It is going to be a special night with a lot of razzmatazz where gospel artistes: comedians, steppers, song ministers etc will assemble to give the best of art and act, which will make the night a fulfilling one. We are doing this to take gospel comedy and show to the next level, and to show that the children of God can enjoy more in the Lord in an atmosphere that replete with peace, love, laughter and joy of the Lord ".
Comedians billed for the night includes: B.Brat, Apostle Kunle Pelemo (P.K), Prophet Aluko, Weebee jay, Pickin Pin, MC Eteye Babs, B.Clowns etc while song ministers and steppers on duty are The Effect, True Worshippers, B.Band, Nazareth Choir, B.Dancers , Yemisi Ojole etc There will be a special appearance of Adesewa Ogunleyimu, one of the amiable finalists of the just recently concluded "Next Movie Star(NMS) 2007".
Adesewa told us that she is already building on the platform given by NMS 2007, hence, " By the special grace of God, I will be there to express my attitude in the Lord. Apart from acting, I love singing and I will be doing this for God come November 1st, 2007. I already said it that my vision is all encompassing, just wait and see, by the grace of God, I will be there before you know it".
Kingdom Lafta Nite is scheduled for Thursday November 1st, 2007 at the Nazareth Building of CAC, Abala Itura, Agege, Lagos by 10pm. According to the organizers, the gate fee is "Mouth of Lafta". It is indeed a projection towards the Gospel angle of a Nite of a Thousand Laugh.