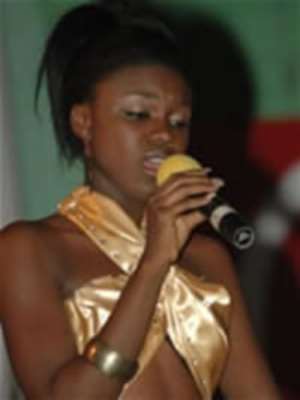 The much-awaited and highly publicised maiden album of Becca, one of Ghana's young female artistes, has been released on the EKB Records label.
The album, titled "Sugar" which is already on the music market in Ghana and other Africa countries is expected to be launched at a colourful ceremony on November 3, this year in Accra.
Ghanaian music fans would attest to the fact that Rebecca Akosua Acheampomaa Acheampong, aka Becca has added a new flavor to the music industry with her maiden album.
The album, which is currently enjoying airplay both on radio and television, is truly a good finished product.
The album, with Sugar as the title track has a total of twelve tracks on the CD and eight on the cassette, including the currently reigning track, 'You Lied To Me', with its glamorous video featuring the silky-voiced man, Kwabena Kwabena.
The Chief Executive Officer of EKB Records, Kiki Banson, in an interview said Becca's work would be launched together with the latest album of the internationally acclaimed South African music legend, Hugh Masekela, who also features on Becca's album.
Becca's record label, EKB Records and Chisa Records (Hugh Masekela's) in South Africa, are collaborating to have some world tours and an album as well.
Through her album Ghanaian music is gaining popularity in South Africa.
For the first time in the history of Ghanaian music, after the local launch of the Sugar album, the pretty songstress and her management team are expected to travel to some African countries, notably South Africa, Kenya, Uganda and Mozambique, on weekly basis to launch it there too.
At the time of writing this piece, the album had been released onto the South African market and reports indicate it was receiving massive airplay and patronage.
Kiki Banson told Beatwaves that the album was carefully packaged not only for the local market but the entire African continent, especially the English-speak¬ing countries and the world at large.
The 12-track album, which features some of the nation's finest artistes including Kwabena Kwabena and King Ayisoba is a classic combination of mind-blowing Twi and English tracks.
Talk of lyrics, arrangements, instrumentation and sound quality, and the album is second to none.
Some of the fascinating tracks on the album are "Why", "You Lied To Me" (remix), "Naughty Girl", "I Love You" "Hey Baa" and "Sugar", among several others.