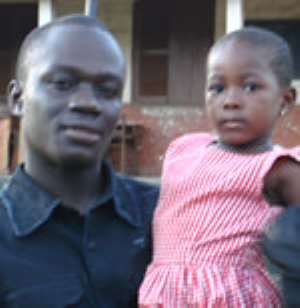 This young chap's release of a single track titled "ONCE, TWICE" on a mix tape compiled and produced by Appietus made him very popular even than the most of the already existing youngsters.

The only unfortunate thing about his sadden fame was the fact that most of his funs didn't believe and still do not believe he is a Ghanaian.

Well, with your trust in our reportage on showbiz issues, we confirm vividly to you that EBO is a full blooded Ghanaian born to the Adisi family.

Among four boys Andrew (Andy) Kwabena Adisi a.k.a Ebo is the third after Nathaniel (Nat) Kwabena Anokyi Adisi well known as Bolary presently of Joy FM and a presenter for TV3's Music Music and Bernard Adisi an event manager at Charter House. The forth is Kevin Adisi currently working for Ghanamusic.com.
Ebo attended St. Johns preparatory, continued to St. Johns Grammar secondary school and proceeded to University of Ghana, Lagon where he started radio presenting at the campus based Radio Universe and later left to Top Radio. Mention "Master Dre" to anybody and you will get a clear picture of his vibrant "Poyola" days.
Explaining why he abandoned his radio presenting carrier for music, Ebo confessed that all along he had this strong passion for singing especially reggae music but he was just marking time for the right moment and also because the songs he had written were all in English he was not too sure if Ghanaians would have accepted him as at then when all English rappers and singers changed to twi.
The only thing that gave him hope of fulfilling his international musical aspiration was Rocky Dawuni's reggae break through on the international scene. Not knowing that Ghanaians will accept any good music irrespective of the language, Ebo wanted to travel outside the country before attempting any release until this opportunity to release a single came up and some how became an instant hit.
Breaking down the lyrics and the concept behind this single hit, Andy said it's basically about love.
"Without love nobody would even smile to you, Ghana wouldn't be this peaceful. Without love we would all be dead by now. Love always makes things happen".
Sitting alone quietly, thinking about the virtues of a woman, he started counting "once twice the lovely feeling in your eyes. Three, four the things you do that turn me on. Five, six you show true affection.
These are the things you do to me that keeps my mind on you". He sings the chorus of the popular song which topped a music video chat show " Viewers edition" on Channel 'O' for four continues weeks.
He also revealed to us that, this single attracted quiet a number of juicy international deal from South Africa, USA, London, Canada and other countries but it was up to him as artiste to sit down with his management and evaluate which one will benefit them in the long run.
Just as the glory of his celebrated single has begun fading, Ebo is back to the studio with another international music recipe almost ready.
This time it's a full album projecting his musical dynamism. The twelve track album is titled "EBO-NY" with songs on Love, unity, Peace, three gospel tracks and other songs which torches on social issues all in English. According to him "Once, twice" was just to test the market and to give Ghanaians a little fill of what he can really do.
"If Ghanaians think that was such a brilliant song, trust me that just a tip of the iceberg. They haven't heard anything yet".
Ebo speaks with such confidence. Well, who know this might be another Akon in the making. Look out for him.
Source: Eugene Osafo-Nkansah, MyZongo.com