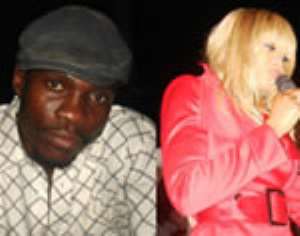 Jay Q has a new signature voice developed by Sally, one of the most celebrated female sexy ladies in Ghana.

Superstar producer and jama beats maker, "Jay Q" has officially changed his bottle breaking signature and replaced it with a sweet sexy voice.

As 2003 Ghana Music Awards Sound Engineer of the Year, Jay Q and his jama beats, defined another version of hiplife in 2001.

He further goes on to say "music is dynamic, it should not always be in a monotonous way. There should be some important changes a times".
"She is a world acclaimed celebrity and getting her to sign on my songs is a privilege", he said.
Jay Q's partnership with Sally of Monte Carlo Forever and Monte Carlo Grand Cafe started when Jay Q recorded a single titled, "How the industry would be if I make entry in Hush Hush Studios about 2 months ago".
"Her outro was popping. I mean the sexy voice she used was and the way she also mentioned my name at the end of the song", he said.
Jay Q and Sally is a perfect marriage for beats and guess what Jay Q's new signature is fast been noticed by his fans
A Jay Q produced song goes for 3.5 million cedis and artists in all genres are clamoring to book him on. Scheduled for release mid of this year, Deeba and Yoggi Doggy will be releasing their new albums with the help of Jay Q.
Jay Q is a front man of the hiplife music industry. As a producer, he has worked with Castro, Bright and Ronny of Buk Bak fame, Pope Skinnie, Tinny, Obrafour, Shilo, Dr. Poh, Ofori Amponsah, Kontihene, 4x4, Mzbel, FBS, Philipa Baafi, VIP, Kwaadee, Praye and more.
By Nii Atakora Mensah, Ghana Music.com