July 12, 2016
|
New Discovery
Ghanaian uprising singer Efe New Song #MeyeObaa Adresses WomenLimitation To Choice Of Men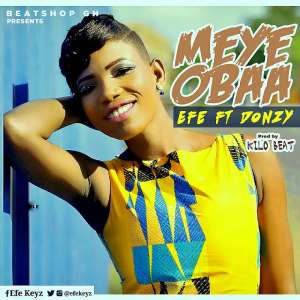 You know the norm that ladies don't propose to guys they are in love with right?
well Efe, the budding beautiful songstress is tempted to say her mind defying the usual in a carefully laid musical composition featuring Donzy and produced by Kilobeats.
Ellen Ayensuaa Gyapong (born on May 17) better known as Efe is an Afro-Pop and Pop vocalist, performer, songwriter, TV presenter and former beauty queen from Ghana. The name Efe comes from a part of the Western Region and is given to girls born on Friday.
she completed Kwame Nkrumah University of Science and Technology (KNUST) with a degree in Sociology. As a writer, she is intelligent and good at adressing problems that arise in daily life and how they can be resolved which she incorporate into her lyrics. Efe draws her inspirations from her environment and seeks to create music that will motivate, inspire, kindle and make people happy.
Efe loves live band and have performed live band shows including ones with the Shakazulu Band. Chico band among others. At the World Music Day concert recently held at Alliance Francais, she performed much to the admiration of the patrons and became the talk of the show. Efe was also selected among the top 20 acts for KLMSingAloud Talent Competition on Viasat 1.
She hopes to collaborate with some of Ghana's top artiste as well as international acts, especially from South Africa during the course of her musical career.
Efe's debut single titled 'Me Ye Obaa' sheds light on African women limitation to choice of men due to their culture.
It's time to listen to something refreshingly different from Efe the talented songstress.