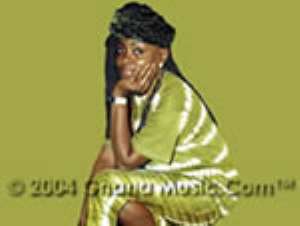 After the collapse of her celebrity marriage to roots icon, Amandzeba Nat Brew, four years ago, evergreen star Akosua Agyapong has relentlessly managed to sustain her music career and stay in the entertainment spotlight, as much as her former husband.

Stunningly, her poise and beauty rather increase with age but can the same be said of her love life?

Akosua Agyepong, the latest addition to the panel of guest judges at the Mentor 2 reality show, made a sensational appearance at the TV3 programme wearing a dark 'zoro' mask after which Graphic Showbiz caught up with her on one of her busy schedules to find out if there was another man in her life after all these years.

"I am single and whether I would marry again or not depends on God. Let's face it, I run a restaurant; pursue a music career with all its commitments and I am a mother of four. I hardly think about love. In God's own time, I will marry." She said.
At close range, Akosua's easy-going nature and elegant public image does not reflect her romance. Indeed, she considers herself a strong woman who has overcome the agony of loneliness and insecurity in order to devote maximum care to her four children, Ewurama, Ebo, Nana Akua and Maame Kwakywaa, whom she had with the roots music icon, Nat Brew, in their seven year marriage.
To her, that strength is what every woman needs when faced with the situation of taking care of children independently.
Asked if there was any man in her life, Akosua was silent for a while, smiled and replied "I can't tell. All is in God's hands. God is my man for now and moreover, I've been used to staying single and concentrating on my business all this while."
According to her, she feels satisfied with her present life and has no regrets separating from Nat Brew. She said the breakup was a mutual agreement between the two after realizing that they were incompatible.
"Our relationship was simply not meant to be. Every marriage has its ups and downs and ours was not different. Perhaps, God knew that we were not meant to be together and allowed this separation to happen. I have no regrets at all."
Source: Graphic Showbiz