Music: K-Slym - OREOLUWA (A Chris Brown cover)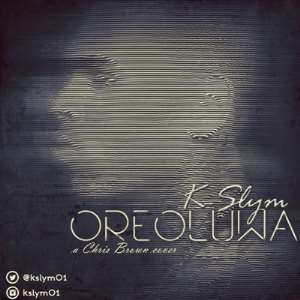 ​"Oreoluwa" is the consummate Nigerian version of the "Back to Sleep" track originally performed by American recording artist, Chris Brown; this offering, conceived by South-side rapper, K-Slym, is one of the tunes off his forth-coming mix-tape project titled "Truth Over Punches."
The offering is a slow R&B tune which features beats and minor influences by Funk and Pop, one which reminds listeners of Marvin Gaye's song, "Sexual Healing"; with original production from Vinylz, Boi-1da and Allen Ritter, K-Slym is set to ride on a song which has had an outstanding commercial success since it was released for digital download on the 9th of November, 2015 - having debuted at Number 64 on the Billboard Hot 100 and going on to become the top Digital Gainer of the week after sitting at Number 20, the song had it's remix featuring Usher and Zayn, go on to account for 69% of sales in it's debut week on the Digital Songs chart, and reaching Number 5 on the Hot R&B/Hip-Hop Songs chart in the same week.
After all said and done, K-Slym is set to re-deliver Hip-Hop into the hands of the Nigerian masses; with inspiration from no other than Chris Brown, listen up and share your thoughts on the flawless/faultless piece titled "Oreoluwa." | ENJOY!!!
Click To DOWNLOAD "K-Slym - OREOLUWA (a Chris Brown cover)" DIRECTLY TO YOUR DEVICE