Illa Shaz: Rising From The Depths Of Gh Hip-Hop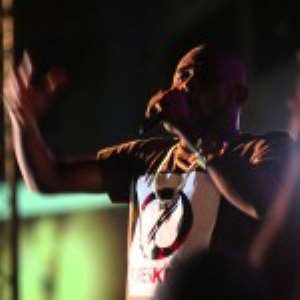 EDDIE BLAY 12 03 2016
Illa Shaz is as real as it gets when it comes down to hip-hop. His stagecraft alone makes him one of the most entertaining artistes in the country today. His unorthodox style does make him a bit of an 'acquired taste', but once you get to understand his vision, you end up joining him on one heck of an exciting journey. He's been in the game for close to two decades, but Illa refuses to conform and go mainstream. He chooses to remain underground despite the assurance of success, if he was to go commercial. I caught up with him to find out more.
What have you been up to recently?
Shaz: I'm working on my new mixtape titled 'Sergeant Slaughter'. I've also been busy making beats and staring at the future of GH hip-hop from the underground. I've been making beats for a long time ever since I was on campus at Legon. Over the years, I have learned to create a unique sound that I'm very proud of.
What are some of the struggles that you've faced in your career so far?
Shaz: As a teenager, I didn't feel much of a struggle. It's now that I'm a man that I face the challenges. I give respect to all those that make it out of the struggles and find success because it's not easy. There are so many forces that drag you back when you try to push forward. It's about taking your destiny in your own hands and shining your own light as a star. Waiting for it is not the way to go. You have to go out and take what you want, and that's what I've been trying to do.
You've very hard core raps. How difficult has it been getting your music played on mainstream radio?
Shaz: It's very hard. The music trends have changed. Gone are the days of walking through the streets of Accra and hearing Wu Tang, Redman, Busta Ryhmes, etc. The good thing is now we have social media and the internet. I use that to push my music and get it to the fans. That's the channel that artistes like myself are using now. This way, we don't rely on the radio at all.
You've been in the music game for over 20 years. What are some of the changes you've noticed over the years?
Shaz: Well, the main change is the music styles and genres. Real hip-hop has made way for commercial, bubble gum rap. We are from the old school and have a different approach to music. We keep it realer and hyper than these new cats. But, it's all good. Music must evolve and we need to keep up with the times.
.
Your subject matter is quite different from the rest. How would you describe the subject matter in your music?
Shaz: I call it universal hip-hop. God gave us the talent, and created us in His image. His image is universal, so I make music for the entire universe. We live in a global village, so we need to be able to reach everyone in the world. My message is based on the spiritual. I do make what you might call 'spiritual hip-hop'. There are quite a lot of artistes like me out there.
You seem to remain underground by choice. I don't see you trying to go commercial.
Shaz: That is true because I believe that is my destiny. I can't follow what others are doing. Yes, money is very important, but what happens after death? You can't take the money with you. You can gain so much, but one day you will lose it all. It's all about helping people to understand the essence of life. That's what I try to do through my music. The Creator wants us to think like Him. Our atmosphere is polluted, and we need to clean it up, so our God can enter it. We have pastors who use the image of Christ to take money from our people. We pray every day with no divine intervention. This is because we have made this place an unclean zone. We need cleansing; we need to have a clean mind, void of greed, envy and jealousy. We are here thinking about what car we driving or phone we using, meanwhile, children in Somalia are dying of hunger. We want to party, smoke and drink, but there are wars going on around the world. I try to put all this in my music.
You bring a lot of passion and fire to the stage. I think your stage presence is unmatched. Where do your energy from?
Shaz: Me and my Shaolin soldiers have this food we eat call 'Balaclacla'. It's basically porridge with no sugar, just pure corn. We sip this thick kookoo, then hit the stage or studio, and bring the fire! I am also a vegetarian, and drink a lot of coconut water. These give me the energy that helps me put up an explosive performance.
What's next for you?
Shaz: I am taking over from Shatta Wale this year! (laughs) Shatta has been there from when I started. He faced the struggle and never gave up. That's what I'm also doing. I work 24 hours a day. Most of these artistes have their money and are sleeping now. While they are sleeping, I will be creeping. (laughs)
A message to your fans?
Shaz: You need to keep working hard to achieve your goals. I don't sleep. I'm constantly working. Believe in the divine power of God. Keep learning, open your third eye. Life is not all about money. Money is like a sword, when you don't hold it well, it can pierce you. Chase knowledge first, the money second. God bless!