Ministry Of Tourism Launches 2016 Okwahu Paragliding Festival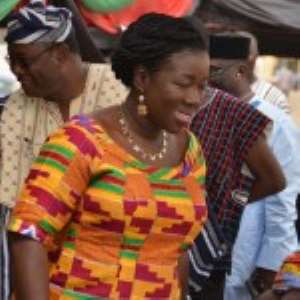 Minister of Tourism, Culture and Creative Arts, Elizabeth Ofosu-Adjare, on Tuesday, March 8 launched the 2016 Okwahu Paragliding Festival at the Coconut Groove Regency Hotel in Accra, with a call on Ghanaians to participate in this year's event.
The paragliding festival which is one of the flagship events on the tourism calendar is held every year by the Ghana Tourism Authority and under the auspices of the Ministry of Tourism, Culture and Creative Arts to coincide with the Easter holiday.
Mrs Ofosu-Agyare disclosed that her ministry was working on replicating the festival in other parts of the nation, stressing the need for other districts to own their tourist attractions.
According to her, her ministry was working with a group of people from the Volta Region who have started a paragliding festival in the region, and would be supporting them this year in that regard.
She said another site in the Northern Region had been inspected by the ministry, adding that "this year when the pilots come, they would go there as technical people to inspect and advise us on whether the site can be used for paragliding."
Speaking at the launch, the minister disclosed that this year's festival, which is the 11th edition, will attract a number of international paragliding pilots from the United States of America, Peru, Japan, France and Belgium, who will fly passengers during the festival.
Mrs Ofosu-Adjare stressed that there will be activities such as tug-of-peace and indoor games such as 'ludo', draft, 'oware', scrabble competition, among others.
.
"There will also be a food bazaar as well as cultural and live band musical performances," she added.
The minister pointed out that the paragliding festival is one event which has put Kwahu and, for that matter, Ghana on the international paragliding map.
The festival, she said mentioned, continues to attract both domestic and international tourists from all walks of life, a mix which promotes social cohesion.
She disclosed that last year's event recorded a total of 212 flights, adding that out of those, 40 passengers were Ghanaians, 55 Germans, 36 Americans and 12 were Japanese.
The minister, however, disclosed that the event has also been economically beneficial to taxi drivers and other transport operators, vendors, caterers, among others.
By George Clifford Owusu