Celebrities Ready For Sanitation Day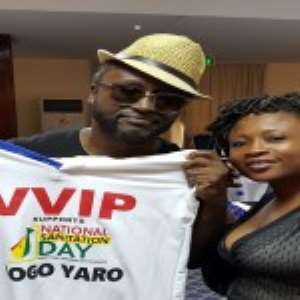 Celebrities in the country have arrived in Kumasi ahead of Saturday's National Sanitation Day (NSD) exercise.
Among the celebrities for the important national exercise are VVIP, Rex Omar Ben Brako and others.
They have admonished Ghanaians to always keep their environment clean in order to boost their health status.
Headed by Nene Ocansey, Broadway Entertainment and its partners want to use the celebrities to rekindle the spirit of the National Sanitation Day exercise.
Reggie Rockstone of VVIP, on his part, expressed gross concern about how filth was posing great danger to the lives of many Ghanaians.
He observed that most Ghanaians are living in unhygienic conditions, so he charged the populace to make sure that their communities are kept clean.
Broadway Entertainment, who manages music and football stars, is expending huge resources to make sure that Ghana overcomes its filth problems.
Other stars such as Keche, Lil Win, Akua Ataa Kyeiwaa, Kwaku Manu, Tic Tac, among others, will also be in Kumasi for the clean-up exercise on Saturday.
FROM I.F. Joe Awuah Jnr., Kumasi