Ak Songstress To Storm GH With " Bloodclaat"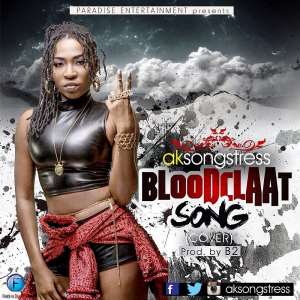 'Dancehall Queen' AK Songstress known in real life as Akosua Kwakye is set to unveil another mind blowing dancehall single.
Known for her lyrical eloquence and prowess ,the Paradise Entertainment artistic recitalist has enthralled music lovers with her dancehall and reggae hit melodies.
She is being described as a Jamaican dancehall diva by 'many' who might have had a first time listening pleasure of her likeable songs. Machine Man featuring BET Award winner Stonebwoy, Rock Your Body which also featured Nigeria's super star Patoranking, Ghetto Cry featuring the Bobo Shanti Jamaican international reggae legend Sizzla, Holiday,Di Empress, Fire Cyaan Done,Pacesetter, Dangerous featuring 4x4 ,Want U Close and others are all household song titles by the Ak Songstress when good music is made the topic of confab.
Well!! The dancehall diva is once again armed to infect the waves and streets with her new single titled 'bloodclaat song'. She goes lyrically "hard" and wild on this Jamaican produced danceable beat and gives it the accolade :" The Leap Year Banger"
Bloodclaat Song will be available for download on all music platforms .