The Political Suicidal Mission Of Nollywood Actress Kate Henshaw, Alesson To Ghana's John Dumelo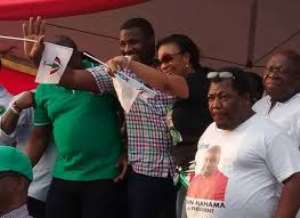 "I have always been in the forefront of fighting for different causes, I feel with who I am and my name , I should be able to speak out and serve". This was the mission of Kate Henshaw in midstream Nigerian politics. Despite stiff opposition from her fan base and her mother over dumping acting for politics, Kate tested the waters and felt politics isn't about movie set directions with the usual tape rolling, characters ready ? and action !. Neither is it about fame, elegance or money.
Kate's bid to represent the people of Calabar municipal/Odukpani federal constituency in the Nigerian house of representatives hit the rocks as delegates of Defeated President Goodluck Jonathan's party the People's Democratic Party (PDP) failed to endorse her candidature during their primaries. "I will come back to Nollywood after 8 years in politics" Kate told her disappointed fans through Sahara reporters but she made a swift come back to Nollywood after her political dream was shattered.
Paying the price for indulging in partisan politics, Kate missed most movie contracts and came to meet a destabilized fan base as most fans who didn't share her political ideology dumped her. They saw her a greedy actress trying hard to milk Nigeria dry through Goodluck Jonathan's perceived corrupt PDP government.
John Dumelo Ghana's finest actor must take a lesson from Kate Henshaw's woes and advise himself against the dangerous journey he has started in Ghanaian politics. John has his right to freedom of expression, right to choose or vote and to be voted for but his lukewarm attitude is gradually affecting his fan base and am afraid might creep into his career if he fails to avoid making partisan comments.
What made him John Dumelo, and the people who made him John Dumelo shouldn't be forgotten easily. Political intolerance is an old disease in Africa and Ghana yet to have an antidote. Fritz Baffour an NDC MP will attest to the fact that acting and politics is parallel.
If John Dumelo wants to enter into politics, he should boldly come out and stop transmitting from the studios of movie making because not all his listeners will buy what he says, hence creating disaffection in a section of his fans for his current career. He can console himself with successful actors turned politicians like Desmond Elliot, Arnold Schwarzenegger, to mention a few. But he shouldn't forget what such a suicidal venture can cost him just like what is happening to his Kumawood colleague Clement Bonney a.k.a Mr Beautiful.
Standing and propagating the message for peace will be a better option for a figure like John Dumelo. Besides, he is still welcome fully into the world of politics but if he is not ready, he must stop tainting the acting profession with partisan politics.