Secular Musicians Performs Better On Stage Than Gospel Musicians — Says Professor Kofi T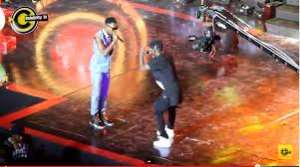 The big question which demanded a candid answer on Storm Fm's Entertainment Xtra last week was; Secular musicians and Gospel musicians, who has the best stage craft?
Hopping on the phone to join the discussion was a Ghanaian gospel singer, Professor Kofi T popularly known as Accordion man--who expressed his opinion that secular musicians are the best when it comes to stage craft.
"The truth must be said, Gospel musicians are doing their best but I think secular musicians are doing better when it comes to stage performance," he averred.
Prof. Kofi T, who is out with his latest album 'Amaga ne Amaga' said his fellow gospel musicians needs to pull in more effort when it comes to stage craft.
According to him, Jesus is superior and anyone who will rely on him will never lack.
"He is the giver and taker of life—it's profitable to worship and serve him than to waste my time on something which is not beneficial or profitable," he told DJ Murphy Lee.
Speaking on his next project, Prof. Kofi T stated that; "My team is gearing up to work on my vol. six (6) album which is currently on the market. The album has tracks like, 'Me Wo Annimonyam', Obi Ente Se Wo', Bue Ma Anni', 'MafaYesu', 'Osahene', 'Amaga', 'Adom Bi', 'Onyame Ba' and 'Yeye Ahohoo'."
Prof. Kofi T bemoaned that his journey into the gospel industry as a musician hasn't been easy.
"You have to use your own resources to push your career, getting a producer is not easy but with time and consistency, I think things will pay off."