Court rescinds warrant for Wisa's arrest, case adjourned to Feb 24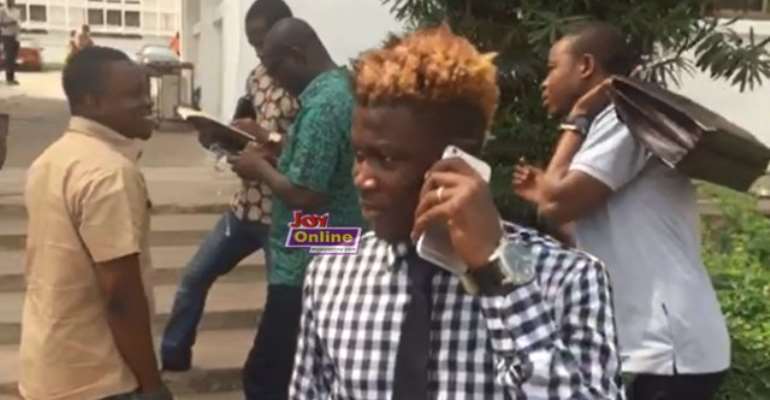 An Accra Circuit Court has rescinded a bench warrant it issued on February 5 for the arrest of hiplife musician, Wisa.
The court took the decision after the musician, who is standing trial for gross indecent exposure, appeared before it Friday.
During the last hearing, on February 5, the musician failed to show up in court when the case was called forcing the judge, Abena Agyin Doku to issue the bench warrant for his arrest.
After the bench warrant was issued, Wisa later showed up at the court premises and together with his lawyer, Jerry Avenorgbor, tried frantically to convince the judge to withdraw the bench warrant but failed.
On Friday, Wisa's lawyer argued that his client was unable to appear in court on time because he wasn't feeling well and therefore came after the hearing.
Jerry Avenorgbor prayed the court that his client had always been attending proceedings except that day. The judge, after listening to the lawyer's argument, rescinded the arrest warrant.
The state failed to present evidence in court during Friday's hearing because the investigator handling the case was unavailable. This forced the judge to adjourn the case to February 24.
The rapper, born Eugene Ashie, is standing trial for allegedly showing his manhood whilst performing at this year's Decemba 2 Rememba concert organised by Accra-based Citi FM on December 24, 2015.
Midway through his performance on stage, the musician while wiggling his waist behind a voluptuous lady drew down his white boxer shorts which was already showing in his saggy jeans and pulled out his manhood, rubbing it behind the lady.
Follow me on Twitter: @delaXdela and Instagram: citizendela
Story by Ghana | Myjoyonline.com | Ernest Dela Aglanu (Twitter: @delaXdela / Instagram: citizendela)