Agogo Presby Church Visits Amakye Dede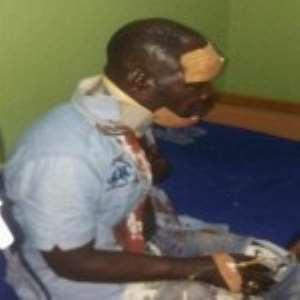 A delegation from the Agogo Presbyterian Church has paid a visit to Amakye Dede who was involved in a motor accident at Bonsu Junction in the Eastern Region, which claimed the life of his manager, Isaac Yeboah, on January 1.
The delegation was led by the head pastor of the church, Pastor Kwadwo Nkansah, who prayed for the speedy recovery of the musician and the departed soul involved in the crash.
Amakye Dede, who was very excited to see the delegation, briefed them about the accident, thanking the members of the delegation for taking time off their busy schedule to pay him a visit him at his residence.
He told the delegation that he saw death with his eyes, but God who cares about his children saved his life.
The highlife legend stressed that the accident has brought him closer to God, adding, "Let's put God first in everything we do because He is the giver of life. I believe He saved my life for a reason and I will worship him forever."