Ada Prepares For More Tourists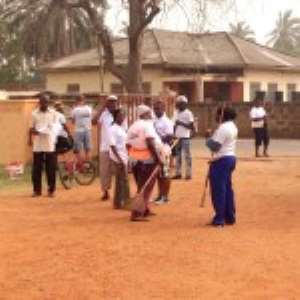 Ada youth in action
As part of efforts to beautify Ada and attract more tourists, a group of young people from the Ada community in the Greater Accra Region embarked on a clean-up and painting exercise last week.
The exercise was to improve sanitary conditions of the community and promote visits to the area that is becoming a hot-bed for tourism.
The exercise started from the Ada-Foah Clinic through the Education Office at Fiagbedu Clinic Junction. It ended with fun games and refreshments at the Dove Park, Ada-Foah.
Organisers of the 'Clean-Up Ada' campaign said they were motivated to undertake the exercise to give a facelift to the community which is a known tourist destination.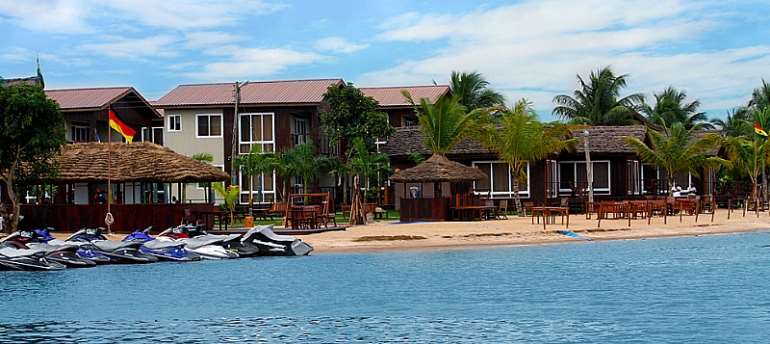 A view of Aqua Safari, a tourist destination at Accra
.
View of Aqua Safari, a tourist destination at Ada
"We embarked on this clean-up exercise to help improve Ada and surrounding communities. We are happy with the outcome, and participation was successful. We hope to undertake more and more of such activities," Catherine Dela said.
A major concern of the community is the poor nature of roads in the community.
"This is a drawback on the development of the community. We intend to petition the Member of Parliament for Ada, Comfort Doyoe, as well as the District Assembly to get the road fixed," said Gideon Aguh, a resident.
The road from Kasseh to Big-Ada through to Ada-Foah is in a very deplorable state and unmotorable anytime there is a downpour. This is affecting tourism revenue and commercial activities in the area.
"But we are worried about the state of the infrastructure leading up to the tourist facilities in the town. We are preparing to petition the authorities to help fix the situation, especially the roads leading up to these tourist sites," he said.