There Is No Graduation In Marriage - Portia Asare Boateng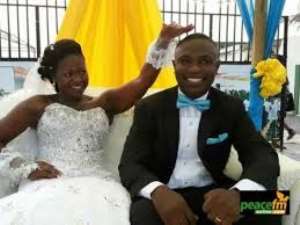 Portia and the Husband
Beautiful and calm Ghanaian actress Portia Asare Boateng who has been married for couple of years now says marriage is a school that until God calls you to His glory, you never graduate.
According to her marriage has been good, very rewarding by the grace of God.
The Portia Asare Boateng who is now a nursing mother in an exclusive interview with SeanCitygh.com described marriage as a educative as it keeps teaching her so many things.
'' Am still marring, and haven't finished with that calling as I term it. Still looking up to God for more grace and a big heart to do His will in other to stay focus on what He's called me for as far as marriage is concerned.
Portia is now happily married to a man of God. Rev. John Wilberforce Aidoo a Pastor at the Grace Baptist Church and a full time Lecturer in one of the tertiary institutions in Accra is now filling Portia's heart with more love.
Portia's dream to marry a God fearing man finally came to past two years ago.
Portia Asare revealed earlier 2013 that she wants a God-Fearing man to marry because she hasn't been very fortunate with men and God has indeed answered to her prayers.