The Untold Story Of Bisa Kdei, The Acclaimed King Of Contemporary Highlife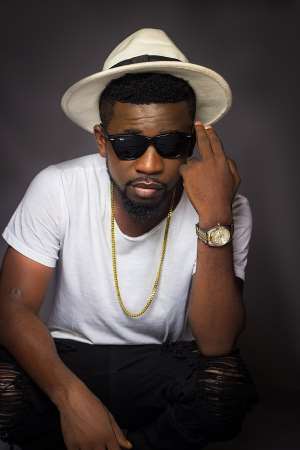 Hello! Are you wearing a long face at the moment? If your response is "yea," then Sir Article recommends "Brother Brother" by Bisa Ksei for your emotional upliftment! Look! Yours truly has always been enthused by the ever-refreshing collection of Highlife songs Bisa Kdei has been churning out. And profiling this musician extraordinaire on my super blog is quite long overdue, but this is the opportune time for me to do so. Hey, "Mansa" and "Brother Brother" being credited to Bisa Kdei, are classified among the top 10 secular songs in Ghana today - no one can gainsay me! In fact, these seemingly twin-tracks by Bisa Kdei are simply a feather in his cap. For there are lots of circular songs in our concentrated music fraternity which are not up to the mark. Yet Bisa Kdei dares to be different, inspiring and classic with his musical products.
Moreover, Bisa Kdei, born Ronald Kweku Dei Appiah on March 19, 1986; is the acclaimed king of contemporary Highlife who was shot to musical stardom against a backdrop of the release of an award-winning movie soundtrack he composed. Bisa: Boy in Serious Action, has an intriguing success story which emanates from humble beginnings - it's worth sharing! "Movie producer Afra Marley who spotted the talent in Bisa introduced him to other colleague and that was how Bisa's success story began," according to GhanaWeb.com. The versatile singer-cum-classical sound engineer, in all sincerity, has now risen to the upper echelons of contemporary Highlife music.
No wonder Obrafour, the acclaimed Ghana rap god, sometime ago in late September last year, declared that, "Bisa Kdei is Ghana's [contemporary] Highlife king." He even added during his interview on Kasapa 102.3 FM that, "God has planted something great in him and in addition to his humbleness, he will go far. He deserves more than what he is getting and I pray God raises him higher." Well, I remember very recently, the humble Bisa Kdei proclaimed that he will never fade out in music simply because he does good music - his strong pronouncement was met with backlash from both his fans and critics especially. But who can deny the pure fact that Bisa Kdei is noted for producing good music in all aspects?
Also, though Bisa Kdei is affiliated to Black Legendary Music, he appears to be a living testimony to a renowned American rapper's declaration that, "Do good music and the fans will be your record label." Yes, the "Odo Carpenter" hit maker always gets a multitude of his fans mesmerised by his superlative works - for his appreciable fan base is the backbone of his incredible music career! Okay, we thank God for legendary Highlife greats such as C.K. Mann, Nana Yaw Ampadu, A.B. Crentsil, Paapa Yankson, Dr. Paa Bobo, Ben Brako, Gyedu-Blay Ambolley, Amakye Dede, Daddy Lumba etc.; and even contemporaries like Ofori Amponsah and Kwabena Kwabena. However, Bisa Kdei has proven beyond reasonable doubt that he is the new king of contemporary Highlife.
Source: sirarticle.blogspot.com