Rising Stars To Watch Out For In 2016 On The Airwaves Of Ho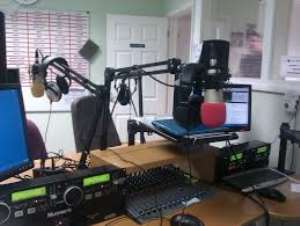 The year 2015 is gradually drawing to an end. For most practitioners in the radio industry in Ho, this year will go down in history as one of the most competitive in the radio market. In fact, almost all the stations in Ho have chalked significant successes in the year under review. Some of the stations too have made palpable changes to their programming formats.
For instance, Tosh FM now does more political talk shows than any other station in town with the introduction of a late afternoon slot for the party 'foot soldiers' to come and try to confuse those who care to listen to them. Hope FM also has fewer on-air personalities currently than in the past and the CEO of the station has been the dominant voice on almost all their talk programmes, either as host or a panellist.
The year 2015 also witnessed some rising stars who are fast establishing their footprints on the radio landscape in Ho and beyond. It's fair and just that l throw the spotlight on some of these personalities as people to watch out for in 2016. It is important to state, however, that whilst most, if not all of them, are not new in the industry, by my own estimation (which you are not obliged to fall for) they got their major breakthroughs in the year 2015 and are likely to make significant impact in 2016. So here we go;
Blessed Sogah on the Kuul Morning Show
The man currently in charge of the morning show on Kuul 103.5 FM cross-carpeted from Hope FM in the first half of 2015, and took over from Mr Avorgah and Etse Atiedeku co-hosting arrangement as morning show host. Coming from a station where the morning show was not that vibrant (in terms of talk and choice of music) as that of Kuul FM, l was a bit sceptical if he would be able to live up to the billing.
But the man took total control of his new role much earlier than l expected and has since made the show his own with his intrusive line of questioning guests on the show. Backed by a solid production team, the Kuul Morning Show has been a major reference point for all topical issues in Ghana with regular contributors from Accra always in the thick of things. The coming year certainly looks good for the Kuul Morning Show with the man, who has been blessed beyond measure, in charge as host.
McRay Delah Sogah on the Am Show on Tosh FM
In the second half of 2015, Tosh FM also got a new host for its morning show, the Am Show, when Randy Edudzi Ahadzi left to join Kekeli FM. The new man, McRay Delah Sogah, from all indications seems to be another import from the southern sector of the region, took charge of the largely political talk show and has been trying very hard to bring it back to its glory days when the show was big with a lot of interesting segments like sports update and the rest.
In my opinion (which does not usually go beyond my nose), the new man has done his bit to make the show a bit attractive. But the show obviously needs restructuring to make it more interesting to people who need much more than the petty party politics from the 'foot soldiers' who throng their studios on daily basis. The new host, with the little he has done so far, shows he certainly has much more to offer to listeners than just moderating a political talk show on daily basis. He will definitely make more in roads in the market when the show is modified a little to make room for more social content in addition to the heavy dose of political discussions it is known for.
DJ Misty on Kekeli FM
The young articulate Disc Jockey has been one of my favourite selectors on air in the year 2015 as far as dishing out good music is concerned. And from his exploits on air he seems to have much more in him than just playing good music as he has been the super sub who sits in for some of the main presenters at the station whenever they are unavailable for one reason or the other. This is the sort of guy you can hand over the drive time show when the Big Boss is not around and still be assured he will deliver perfectly. He is a good talent who will make an impact when given more airtime in the coming year.
Tilda Elinam Acorlor of Volta Star Sports
This lady is the only female sports presenter on the airwaves of Ho currently. In the year under review, she has made a big statement for her gender in this male dominated space. She has certainly added a lot of spice to the English sports news on Volta Star Radio. Her delivery on air has been eloquent and she will certainly be a force to reckon with in the coming year if she remains on the airwaves in the coming year.
Prince Afedo (Prince K) Of Volta Premier FM
I am always delighted when a young person is given an opportunity and he/she grabs it with both hands, and makes a name out of it. This young enterprising DJ will definitely go down in my books as Volta Premier's hottest selector in the year 2015. He is the kind of DJ who will 'force' anyone to opt for music on radio instead of heading to the night club on a Saturday night if all that the person needs is good danceable tunes devoid of all the excesses in the club. Even though l hold the view that he needs to work a little bit on his presentation skills the young chap certainly has the nose for picking good tunes. I expect him to make a stronger showing on this front in the coming year
PS. The presenter on Kekeli FM known as Senses needs to be 'brought back to his senses' by those who are supposed to do that because his vulgar expressions on the network are certainly not what one expects on a network that prides itself as God's own radio. His Saturday afternoon programme is noted for good Hip Pop/R&B tunes courtesy his good music selection skills.
But the show has also gained notoriety for his use of offensive language (sometimes plain insults) on air. A case in point is when he sat in for Sizzla l on Christmas day, and said openly that someone's mouth smells like poultry droppings, among other things on live radio. Maybe, he only needs to be told certain expressions are reserved for street and Solom Base discussions, but not on 21st century radio.
Writer's Contact: 020 7398103/0245 871 875