2015 Tourism carnival Held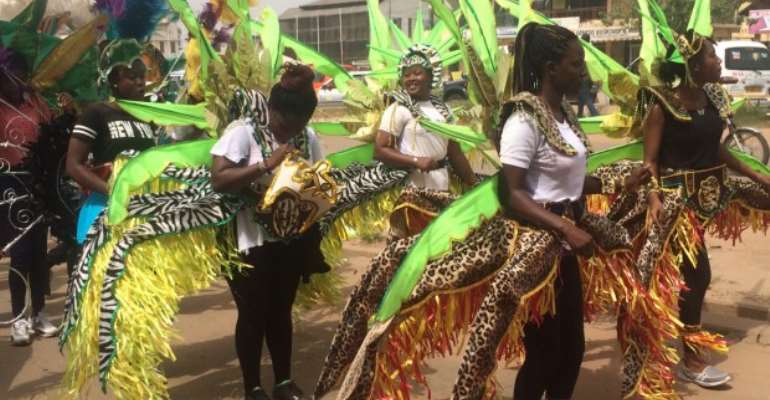 The second edition of the annual tourism carnival took last Friday through the principal streets of Accra to the Independence Square.
The initiative which was launched in 2014 by the Ministry of Tourism, Culture and Creative Arts is aimed at diversifying the country's tourism, cultural and creative arts products.
It also serves as a tool to create employment and income opportunities for Ghanaians. It is being celebrated on the theme: 'Promoting the Ghanaian Culture And Identity Through Carnivals'.
The   ministry further seeks to use the event as an incubator for creative industries, skills development and providing individuals with creative opportunities.
Hundreds of people, including students, workers unions and staff of the ministry, gathered at the Obra Spot at the Kwame Nkrumah Circle Friday morning and marched through the Osu Oxford streets to the Independence Square. Participants were drawn from all the 10 regions of the country.
They represented their regions amidst singing, drumming and dancing and also rich cultural costume.
A member of the National Planning Committee, Caleb Coffie, said the initiative hopes to market the Ghanaian culture to the rest of the world to attract investors into the country.
It is an annual festival which will draw more patrons to the tourism industry.
'This is a message to the global world to see we have a congenial environment where they can come and invest and work. We are hoping that this will be replicated and extended to other ECOWAS states across the sub region,' he said.