Hot 93.9fm Honours Kofi Adjorlolo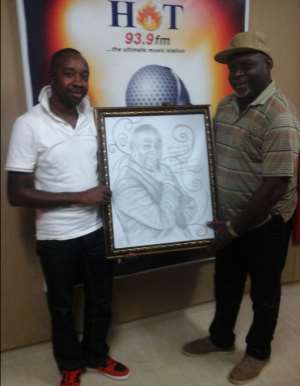 Popular radio station, Hot Fm in Accra has honoured renowned veteran actor, Kofi Adjorlolo for celebrating 30 years of service in the showbiz industry.
In a earmarked citation, the station eulogized the immense qualities of the celebrated actor, thus congratulating him for celebrating 30 years of scintillating service in the showbiz industry.
Amidst screaming and chanting, Kofi Adjorlolo read the citation written on the award and expressed his elation for being honoured live on radio for the first time in his entire career:
"Wow...oh my God...'shit' mehn!!! this is the first time am being honoured like this on radio...this is beautiful...Yes!!! 'HOT 93.9FM CONGRATULATE YOU FOR CELEBRATING 30 YEARS OF SERVICE IN SHOWBIZ'...I'm so so much excited and very humbled.i wish this was on tv.i want to thank all of you at Hot 93.9fm. God bless you all"He expressed.
Speaking after presenting the award to Kofi Adjorlolo, the host of hot and classic showbiz review and the programs manager of the station,Ebenezer Anderson well-known as Dr.Who also said:
"You see the way Kofi Adjorlolo is happy?this is why is always important to honour our heroes whiles they're alive.I just don't comprehend why we should wait till personalities who work hard die before we see the relevance in honouring them.That practice must be abolished. Kofi Adjorlolo is really worth celebrating ",Dr.Who noted.
Hot and Classic Showbiz review is an entertainment talk show aired every Saturday between 5-7pm.