CEO Of TV Africa Made Chief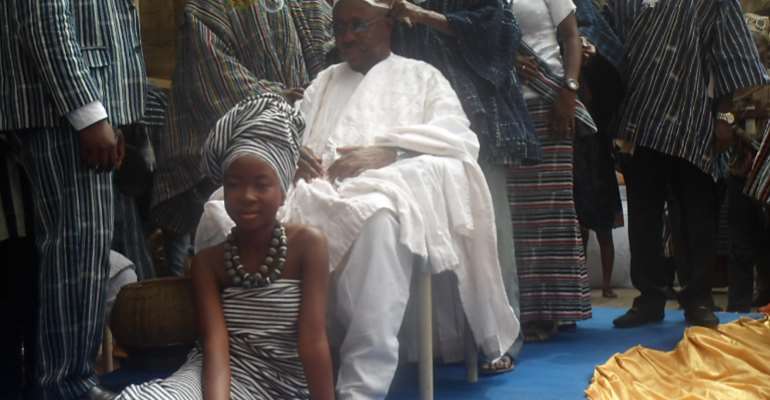 Chief Executive Officer (CEO) of Television Africa (TV Africa), Mr. Kwaw Pantsil Ansah has been enskinned as the Kanyiti-Wura (Man of great patience) of the Gonji land in the Northern Region of Ghana.
Mr. Kwaw Ansah, an award winning filmmaker was conferred the chieftancy title through his outstanding contribution towards the projection of African cultures and values.
It is evident on face value that he is an epitome of the African culture. Through his years as writer, director and producer, he made sure that the cultures of Africa were not left out in his art works. His television station, ( TV Africa) is been decorated with materials from Africa.
Through his patience, he has achieved a lot in life therefore the chiefs and people of Wassipe has given him a chieftancy pposition called "Kanyiti-Wura" which means "man of great patience".
Mr. Kwaw Pantsil Ansah was born in 1941 in Agona Swedru, Ghana. His mother was a trader and his father a photographer as well as a painter, musician and dramatist. After his initial schooling at an Anglican Mission School, he studied for his O Level in the capital city of Accra, while working as a textile designer at the United Africa Company, he expressed enormous gratitude for his success and development as a filmmaker to his father, a trained photographer. Although his father wanted him to engage in his own trade of photography, the young Ansah having discovered his talent in drawing and painting, had other options.
From 1961 to 1963 he was enrolled in London's Regent Street Polytechnic, where he obtained a diploma in theater design. Following his education in England, he studied in the U.S, graduating from the American Academy of Dramatic Arts and the American Music and Drama Academy from 1963 to 1965. He produced for theatre his first play, "The Adoption" which was produced off Broadway in 1964.
Upon his return to Ghana in 1965, Ansah was able to find commercial work in film and television. He worked for two years as a production assistant and set designer for the Ghana Film Industry Corporation, and also made commercials for Lintas advertising agency in Accra.
Kwaw Ansah was the set designer for Egbert Adjesu's film I Told You So (1970). He went on to found his own advertising firm, Target Advertising Services, in 1973.
He continues to do commercial advertising work (his company is now called Target Saatchi & Saatchi Ltd), which, he says, "pays the bills." One of his television commercials won him a New York-based CLIO Award in 1989.
Along with his commercial work, Ansah continued his engagement with the world of theater and the arts. Soon after his return to Ghana he became an executive member of the Ghana Drama Association and the Ghana Association of Writers, and an officer of the Film Guild of Ghana.
His play Mother's Tears was performed at the Drama Studio in Accra in 1967, and was instantly successful.
The writer of Love Brewed in African Pot and Heritage, Mr. Kwaw Pantsil Ansah is now the Kanyiti-Wura of the people of Gonja.