Akosua Adjepong accuses GHAMRO executives of embezzlement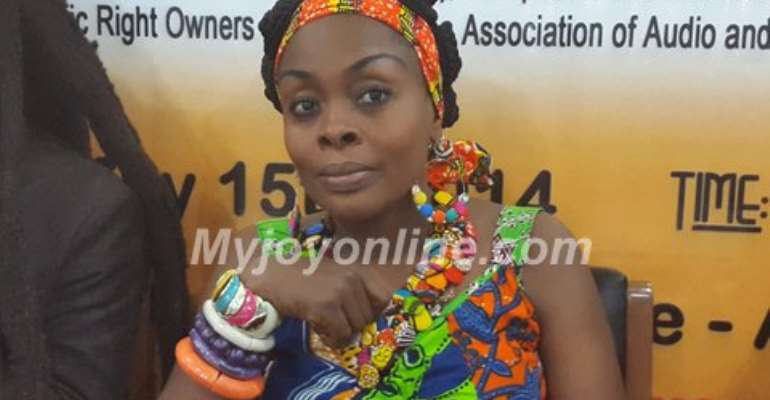 Veteran musician, Akosua Adjepong is accusing the leadership of Ghana Music Right Owners Organization (GHAMRO) of embezzlement.
According to her, some executives of the organization have taken advantage of the poor monitoring and accountability systems within the organization to enrich themselves at the expense of the music right owners some of whom, she claims, died out of poverty.
The 'Frema' hit track singer made the accusation in an interview with KMJ on Daybreak Hitz (Showbiz Review) on Hitz FM.
She said "Some of these executives are using their positions to enrich themselves. Comfort Annor came on air pleading for money for her hospital bills and died and yet they claim to care for the welfare of right owners, what kind of care is that?"
She called for probe into the financial activities of both GHAMRO and MUSIGA to ensure that monies generated by the two bodies are accounted for.
She also expressed displeasure at the decision by GHAMRO not to share royalties to right owners this month.
According to her, GHAMRO sent messages to musicians informing them of their inability to pay royalties in December, a decision she finds abnormal and questioned the rationale behind it.
"This is a big blow, because it has never happened before," she said.
She also claims GHAMRO received a whopping amount of over 1 million Ghana cedis as royalties in March this year so she was expecting the organization to use some of the money as royalties to property owners.
Akosua Agyapong also criticized the leadership of GHAMRO over what she describes as their inability to effectively collect royalties from radio and television stations.
"I have personally visited some radio and television stations and they confirmed to me that they do not remember the last time they paid royalties yet our leadership does nothing about it. I wonder what they are doing in office," she lamented.
Reacting to Akosua Adjepong's allegations, Administrator of GHAMRO, Abraham Adjetey said the decision not to share royalties to right owners this December was agreed on by a special board.
"This December the board looked at collection that came in, and decided that the right thing is to set up a rule for distributions just like any other organization. They decided that starting 2016 there will be two distributions every year June and December."
He continued that collection has to be done tactfully because of the power crisis the country is facing now.
He advised Akosua Adjepong to come to the office for detailed information on the development.