Shatta Wale's Father Installed As Ngleshie Amanfro Chief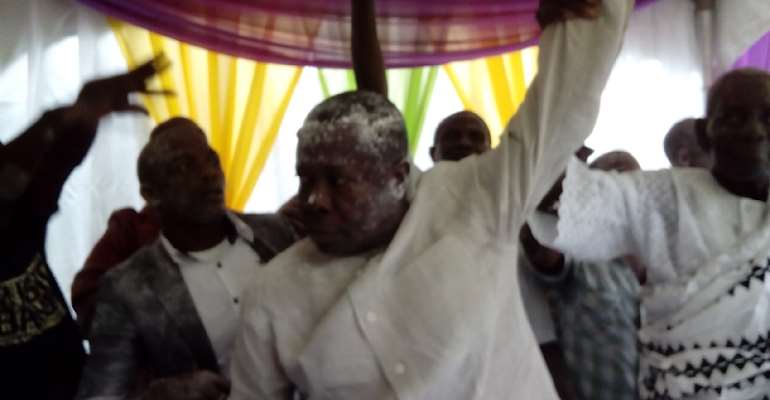 Charles Akramah Mensah , biological father of Ghanaian dance hall artiste , Shatta Wale has been nominated and endorsed as the newly chief of Ngleshie Amanfro under the stool name of Nii Akramah Nyonmo Bei II.
Addressing the media during the installation in Accra, the Stool Father of Ngleshie Amanfro D.C.O.P J. A Adams , explained unequivocally that, in August 1990 Nii Cofie Ajenkkwa III was enstooled Mantse of Ngleshie Amanfro.
"Since his ascension unto the throne, nobody has challenged his legitimacy. It is clear that installation of leaders of Ngleshie Amanfro have fashioned out for themselves until what happened last year August, 2011 when one Humphrey Djartor Botchway out ambition decided to mount the throne with force," he stated.
According to the Stool Father, Mr. Humphrey Djartor Botchway also a.k.a Koforidua , who attempted mounting the throne last year (2010) was forcibly thrown out from the Stool House by the Head of the family of Akrama Naa with the help of the police and the Military.
"We strongly feel that at this age and time of human development , Ngleshie Amanfro like any community that has foresight , needs analytic minds to steer the affairs of her people.
The time has come for community like Ngleshie Amanfro to have a pack if like-minded , development and objectives oriented people to run her affairs.
On behalf of D.C.O.P J.A Adams and in my capacity as Stool Father, and Nii Armah Twitwegu; and on behalf of the seven (7) Accredited Family Heads of Ngleshie Amanfro, I nominate and declare Charles Nii Akramah Mensah as Mantse of Ngleshie Amanfro with immediate pending his installation and coronation," he declared.
Nii Akramah Nyonmo Bei II the newly Mantse of Ngleshie Amanfro who is also the father of the Shatta Wale, known in private life as Charles Mensah Jnr, the Dance Hall king; commended the people for their support and love for him, and praised the resolute spirit of the kingmakers.
However, he reiterated his commitment to work hard, and assured the people of his desire to collaborate with all and sundry to promote development and also foster unity in the area.
Ngleshie Amanfro is a Community in the Ga- South Municipal area in the Greater Accra Region near Kasua.
It is a Community mainly inhabited by the Gas who happens to be the Custodian of the land. Ngleshie Amanfro originated from the Ajumaku division of James Town in the 1700s.
The Community was resettled at its current location in 1978 by the government of Ghana as a result of the creation of the Waija Lake.
By: Isaac Kofi Dzokpo/NewsGhana.com.gh