KsiBoys releases the number 1 trending song; "Aso)den"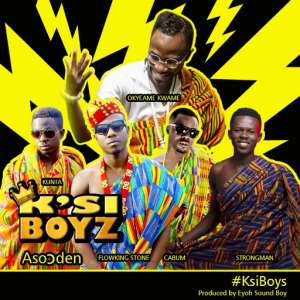 It's here at last. KsiBoys [pronounced as 'Kay-Zi Boys'] has hit the airways with the latest song "aso)den".
The hashtag to the song; #KsiBoys is currently trending number 1 on twitter.
KsiBoys comprises award winning Mr Versatile, the RapDacta Okyeame Kwame and other artistes such as energetic Kabum, lyrical StrongMan, Flowking Stone who brings a lot of style, and the rap classic Okyeame Kwame, backed by the adorable Kunta Kinte on the chorus; are all featured on the song
It's a 4 minute song that brings together the conflict of modern rap and the tradition of 6:8 'adowa' timing; and backed with melodies from Kunta. The song is set to steal the attention of all music lovers.
Expect much more great music from the #KsiBoys in the coming days and weeks.
Download the song here >>>> #KsiBoys
(download link: https://soundcloud.com/user-536797875/ksi-boys-asoden)