Mzbel Explains Why It's Wrong To Think Kids Imitate Musicians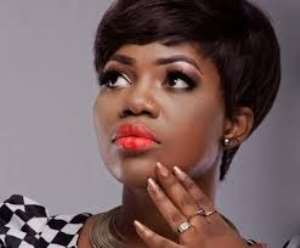 Sultry image diva,Mzbel has explained why she believes it's wrong to think that children imitates musicians as presumed.
Mzbel,was answering a question regarding to whether there should be a panel that would scrutinise songs before they're released for public consumption since it's being presumed that children imitates what they see or hear from musicians.
Explaining to Dr. Who, host of hot and classic showbiz review on Hot 93.9fm in Accra, Mzbel argued that, though songs should be scrutinised by a panel before it's being released, it's never true children copy from musicians:
"Ok...Dr. Who, i agree perfectly that there should be a panel to scrutinise our songs before releasing, but i don't buy the perception that children imitates what we do.
People say we're role models ...Yes...but i'm a mother,a child's future depends on the sort of training the parent or who ever takes care of that child gives to the child",Mzbel noted to Dr. Who.
Mzbel justifying her claims,further argued,"I have 4 children and they see what i have been doing,but they dare not copy them, simply because i have set up rules which they dare not go contrary to those rules.
My kids are very disciplined .My first child is 23 years old and she is in one of the universities. she is being regarded as one of the best students simply because i trained her extremely well...So Dr. Who, that perception is very wrong.", Mzbel explained passionately.