All Set For PANAFEST 2015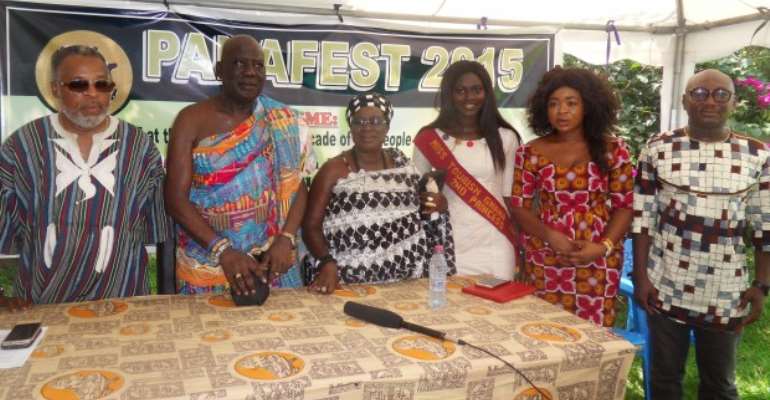 Dignitaries  on the high table in a pose after the launch
This year's edition of the Pan-African Historical Theatre Festival (PANAFEST) 2015   has been launched in a colourful ceremony at the Heritage House (Ato Austin Memorial Gardens) in Cape Coast.
Paramount Chief of Oguaa Traditional Area, Osabarima Kwesi Atta II, who chaired the event on Wednesday, explained that the celebration of the cultural festival was shelved last year due to the outbreak of the Ebola virus.
He, however,  pointed out that the PANAFEST secretariat has taken inventory of the famous cultural festival, and as a resulted decided to raise the bar in subsequent editions, beginning  this year themed: 'PANAFEST: At The Threshold Of The Decade Of The People Of African Descent'.
The chairman revealed that this year's event which begins from December 5 to 9 in Cape Coast   and Elmina would serve as a foretaste for the rebranded edition in 2017.
The Executive Secretary, PANAFEST Foundation, Rabbi Kohain Halevi, said that UNESCO's declaration of PANAFEST a decade Of 'People Of Africa Descent' was enough motivation to drive Africans as a people and fight for common goals.
'We will not leave it for UNESCO to celebrate or remind us of what we are made or stand for. Let's use arts and culture to promote Pan- Africanism,' Kohain Halevi mentioned.
Deputy Executive Secretary, PANAFEST Foundation, Kojo Ampah Sahara, mentioned that 'we are looking at the era that PANAFEST would be discussed in contemporary terms and involve the youth more as well as opinion leaders.'
As a result, the PANAFEST secretariat has conferred on Afua Asantewaa Ofosu, Miss Tourism Ghana 2014 (2nd Princess), as its ambassador.