Prof Yartey's death has left big vacuum in Ghana's creative arts - Ebo Whyte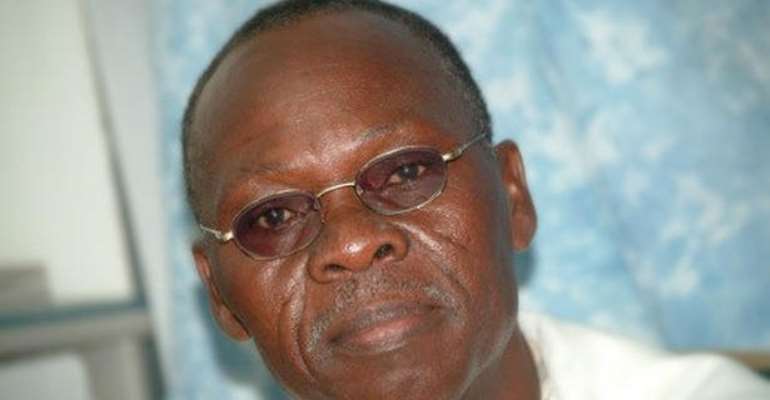 Ghana has lost a creative arts gem and the vacuum created may never be filled, renowned playwright James Ebo Whyte said when he eulogised Prof. Nii Yartey.
The CEO of Roverman Productions believes that the passing of Professor F. Nii Yartey, an individual, who worked tirelessly to sell Ghanaian traditional dance to the world, is a big blow to the country.
The professor passed away on Saturday, November 21 at age 69 after a short illness.
He was the founder of the Noyam Institute of Performing Arts, which was originally established as a Dance Project, on September 15, 1998.
Professor F. Nii Yartey was also an Associate Professor, Department of Dance Studies, School of Performing Arts, University of Ghana and was from 1976 to 1993 the Artistic Director/Choreographer of the Ghana Dance Ensemble, University of Ghana.
He became the first Artistic Director of the National Dance Company of Ghana, when the group moved to the National Theatre, until 2006 when he retired.
Recounting the life of the late professor, Ebo Whyte told Myjoyonline.com in an interview that, he "did not know him at the personal level that much. We began to get close about five years ago when I watched his Musu [Musu-Saga of the Slaves] and then we got into talking and started planning some productions together."
"But the little I knew of him in my interactions with him is, he was a very sincere person. I don't say that often with creative people. Creative people are not direct because they don't want to offend you but with Prof, if he will do it, he will do it and he will tell you. If he won't do it, he comes straight…he doesn't leave you in false hope and that is a quality I admired very much in him," he said.
The playwright added that, Prof Nii Yartey "was not the kind of person to be daunted by any challenge and he was not easily intimidated…he was a fighter" and he does not back down easily.
Prof Nii-Yartey would be remembered as an individual who had a vision for putting Ghana's traditional dances on the world map and he took several trips to introduce the rest of the world to some of our traditional dances.
"There will be only a few people who have made contributions to the arts in Ghana, especially selling Ghana especially in Europe," Ebo Whyte affirmed and added that, "I mourn his passing deeply; a great tree is fallen. A big vacuum has been left in the creative industry. He will not be that easy to replace."
He believes that the late professor left with a lot and Ghanaians must pick up from where he left off. "A lot of concentration is on research and it is up to the rest of us to take the results of his research and take it to the market. Sometimes we should understand that an intellectual's biggest contribution to society is not in the marketplace but in equipping us in the marketplace."
Through Prof Nii Yartey, many students, both local and foreign, learned our local dance. "He has made his contribution; it is up to us now to pick up from where he left off and build."
For Ebo Whyte, the late professor must be celebrated and a month dedicated to his works. "I am hoping that National Theatre, the University of Ghana, especially the School of Performing Arts, would take some of his works before we forget his memory maybe a whole month of his dance pieces. I think that will be a befitting tribute to this man who sacrificed so much for the arts."
Prof Nii Yartey in an interview with Myjoyonline.com in 2010 made a passionate call on government to make theatre arts a part of Ghana's developmental agenda.
Read: Gov't should make theatre arts a part of our developmental agenda - Prof. Nii-Yartey
In that rare interview, he said, "If you go to Germany, for every hundred thousand people, they've put up a theatre. As you put up theatres, you train people to empower them and at the same time you are training them to become agents of the country's image and development. Art is the carrier of the image and value of a country."
Ebo Whyte revealed that they were on the verge of creating series of dance drama together. With Ebo Whyte as the writer and Prof Nii-Yartey as the choreographer of the dance, their first project was going to be the story of Esther.
Prof Nii Yartey would be remembered for his numerous choreographic pieces which number over 30.
His well-known productions include pieces such as Musu-Saga of the Slaves, The King's Dilemma, Bukom, Solma, Atamga and The Legend of Okoryoo.
Follow me on Twitter: @delaXdela and Instagram: citizendela
Story by Ghana | Myjoyonline.com | Ernest Dela Aglanu (Twitter: @delaXdela / Instagram: citizendela)