Airtel hosts Hezekiah Walker ahead of Airtel Adom Praiz 2015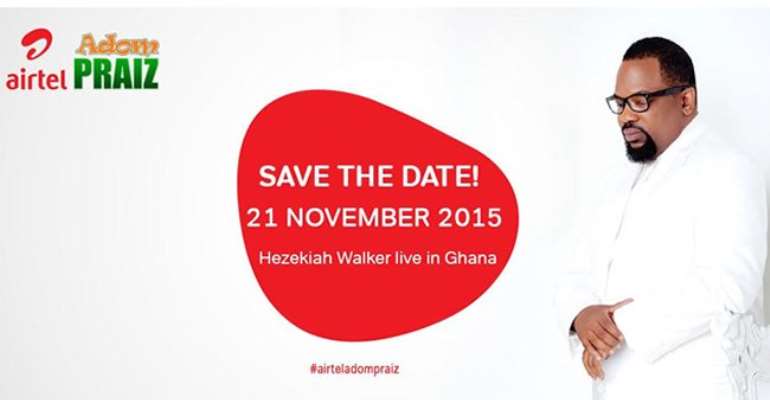 Ghana's fastest growing telecommunications service provider, Airtel Ghana will on Friday, November 20, host international gospel celebrity and headline artiste of Airtel Adom Praiz 2015, Bishop Hezekiah Walker at its Headquarters ahead of the Saturday, November 21 calendar marked event.
This visit is part of pre-event activities for the global gospel artiste to pay a courtesy call on Management and employees of Airtel, the headline sponsor of Airtel Adom Praiz.
It is also an occasion some of Airtel's high value customers to interact with the worship leader before he mounts Ghana's largest alter of praise and worship.
Airtel Ghana's Marketing Director, Rosy Fynn said that this visit highlights Airtel's commitment to provide a platform for gospel music enthusiasts to connect and celebrate.
"We have shown this commitment with our association with Ghana's biggest altar of praise and worship, Airtel Adom Praiz for all these years as the headline sponsor of this spirit-lifting event," she explained.
According to her, as a socially responsible corporate citizen, Airtel has demonstrated by being the headlines sponsor that, "it is very much drawn to activities that connects with and satisfies even the spiritual needs of individuals and communities within which it operates."
"As the most loved telecommunications brand in Ghana, we are thrilled to be part of this event over the 6 years of its history. Through Adom Praiz, we have brought to Ghana many of the biggest international gospel artiste paired with the very best from Ghana," she concluded.
The Changemaker company had earlier communicated that the lead Worshipper, Bishop Hezekiah Walker and his award winning choir, Love Fellowship Choir will arrive in Ghana on 20th November in preparation of the biggest gospel concert in Ghana this year.
Bishop Walker has 16 albums and has churned out soul-moving tracks like 'Every Praise' and 'He Favoured Me'.
Some renowned local Gospel artistes like Joe Mettle, KODA, Celina Boateng and Alabaster Box and Minister Francis Amu will be part of the praise leading team.
Adom Praiz started in 2009 and has brought Ghanaian worship and praise lovers, renowned and international gospel artistes such as Cece Winans, Ron Kenoly, Kirk Franklin and Israel Houghton.
It has also served as a platform for local Gospel giants such as Cecelia Marfo, Tagoe Sisters, Daughters of Glorious Jesus, Ohemaa Mercy and many more to connect with Gospel music lovers and Christian worshippers.
The event has over the years maintained some of its unique features such as the venue always being a church auditorium which, organizers say provides an ambience for a spirit-filled gospel ministration.
Airtel Ghana, the fastest growing and the most loved telecommunication brand in Ghana has been the main sponsor of the calendar-marked event organized by Adom 106.3 FM for the past six years.