Vodafone X Marks Anniversary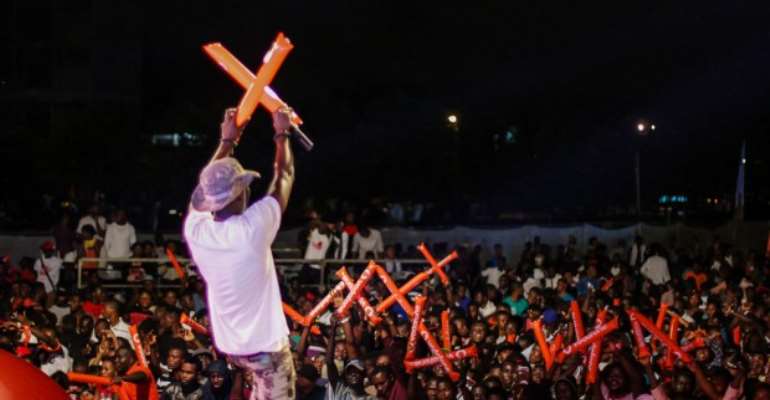 Vodafone Ghana has climaxed the one-year anniversary of Vodafone X with an unforgettable musical concert for the people of the Brong-Ahafo Region.
The Vodafone X concert, held at the Sunyani Polytechnic in the Brong-Ahafo Region over the weekend, drew a giant crowd of music patrons who were thrilled with performances from E.L, R2Bess, Jupiter and a host of other artistes.
During the month-long celebration, the telecom giant also offered X customers a surplus of activities including loyalty packages, online and offline giveaways, Insomnia treat for movie lovers at the Silverbird cinemas as well as health and educational programmes.
According to Agnes Emefa Essah, Marketing Director of Vodafone Ghana, Vodafone X had made it possible for customers to connect with the things that were important to them.
'Last year, Vodafone brought young people from across the regions of Ghana together to discuss their aspirations, technological interests and needs. It was from these discussions that Vodafone X was born. They can access Twitter, Facebook, Instagram and Snapchat for free and get free calls to close group members among other benefits. It's been a wonderful one year for Vodafone X,' she stated.
Agnes added that the level of customer satisfaction and opportunities on Vodafone X had made the lives of youth aged 15 to 24 easier while the product won the company many laurels including 'Hashtag of the Year Award' at Social Media Africa Awards (SMAA).
'As we move into next year and beyond, we will continue to nurture our relationship with our customers by working to enrich their lives in tangible ways. We endeavour to provide consistently excellent quality of service while striving to achieve international standards in the significant aspects of our operations,' she said.
Over the years, Vodafone Ghana has introduced youth empowering initiatives that have improved lives through innovative and socially impactful programmes such as 'Vodafone Icons' where aspiring musicians are groomed and nurtured to become stars, and the 'Do More' campaign which supported the life ambitions of the Ghanaian youth by funding their projects.