Selly Galley Clocks $35k Ambassadorial Deal With Abrantie College Of Cosmetology And Fashion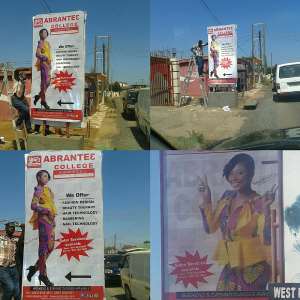 Life seems to be treating the newly wedded TV host of joyprime, actress and former Ghana BBA-The Chase contestant, SELLY, as we can confirm that she is now the brand ambassador to Abrantie College of Cosmetology.
The award winning actress, entrepreneur and television host on Joy Prime on Multi TV according to our source has scooped home a whooping sum of$35, 000 for the next twelve (12) months and we hear that the deal is renewable with additional add-ons which may raise the bar after management review at the end of her first tenure.
Tasks for Selly according to source were kept close to their ches, but we can figure out that her charm is required to come into play as she currently commands a large fan base of followers for her charismatic energy.
Billboards have been mounted all over Accra city and it's environs.
Also, we gathered that some of the qualities that got her the deal according to an insider were her enthusiastic energy, her highly organized detailed orientation, her beauty and fashion sense, and her excellent interpersonal communication skills, among others.
For those who don't know about Abrantie College of Cosmetology; it is an ultra-modern chain of salons and cosmetology school that is making strides in the beauty industry. The school is headed by the able Mr. King David Thompson who is a seasoned fashion personality. Furthermore, he is currently the vice president of P-CABAG Ghana and he serves as quality controller for most products in Ghana before its launch.
The GES & NVTI and COTVET accredited centre trains about 150 – 200 students per training semester with ultra-modern training facilities.
Located on the Spintex road, in Accra, Ghana with other branches in Tema and Madina, Abrantie College of Cosmetology training institution has the bragging rights in Hair, Fashion & Beauty sectors as one of the best from Ghana.