New Music: The Way You Are - Favour Flakes [@Favourflakes]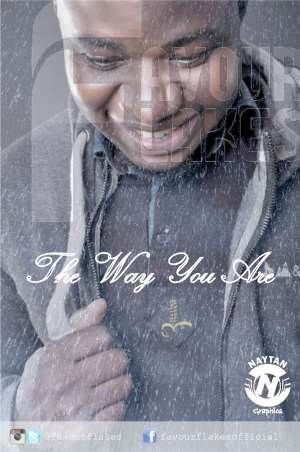 THE WAY YOU ARE is a beautifully delivered inspirational song channelled towards the disappointments of life and how to never give up as we strive to be the best.
Delivered with a nice up beat rock-like sound, with Favour Flakes showcasing his vocal capabilities. This is a song that will lift your spirit, send a message and get you head nodding.
About Favour Flakes: "To create a sound that will inspire my legacy" - this is the conviction that drives FAVOUR FLAKES, Nigeria's response to Josh Groban. FF is an inspirational artist and hails from Uromi in Edo state, Nigeria.
He is a classically trained tenor, with many recitals performances to his credit, but has always had a creative vision to develop new sounds that infuse classical music, afro pop and indie genre into a beautiful tune.
Flakes is a French graduate and has worked at different times in various educational consulates acting as a language translator or French instructor. He loves to spend his free time training gospel and classical choirs, and always enjoys a good gist with close friends. He attributes his music influences to great mentors such as Osadebe, Cold Play, Sir Victor Uwaifo, and Michael Crawford.
Download: http://old.hulkshare.com/dl/9y3qw7mbp6v4