Indian Filmmakers Enter Ghana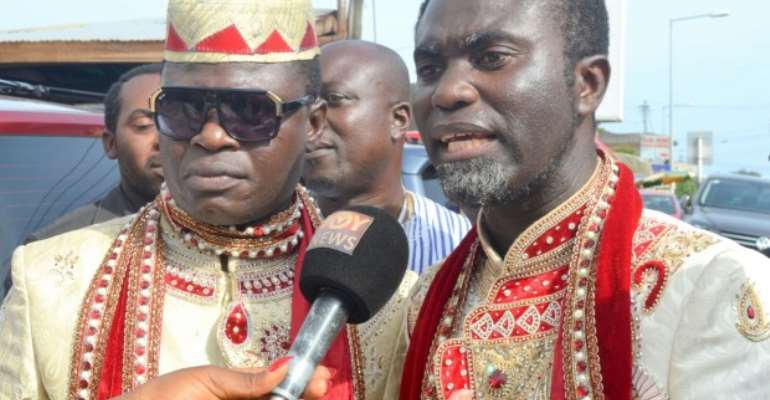 Richard J. A. Boateng and Zoree on arrival from Indian
Ghanaian movie stakeholders who were recently in Indian to negotiate a partnership deal to integrate the movie industries of both countries have said their Indian counterparts will be coming down to Ghana to shoot movies very soon.
According to the Greater Accra Regional Director of Film Directors Guild of Ghana (FDGG), Haruna Seidu Soale aka Zoree, who was part of the Ghanaian delegation to India, the decision to bring their Indian counterparts to shoot in Ghana was one of the major issues they deliberated on in Indian.
He indicated that it was an excellent arrangement, since it would benefit both countries. He said a lot of Ghanaian actors and crew member would be employed if the Indians come down to do their production in Ghana.
'They are coming in the second month of next year to do visibility study. Shooting in Ghana is one of our major agreements. They will be shooting 70 percent of the stories here in Ghana and again use about 70% of our crew and actors. All that is part of the memorandum of understanding (MOU) we signed with our Indian partners,' he said.
National president of FDGG Richard J. A. Boateng also called on government to open its doors to them should they call on them because the collaboration will provide jobs for Ghanaians.
He was optimistic the move would push Ghana's movie industry to new audience worldwide and urged everyone to support it.
'This is going to bring job creation because when our partners are shooting here, they will be employing our actors and our crew. Our youth will get jobs from this MOU. So we need government to partner with us on this. Our journey to India was a success,' he added.
The Ghanaian delegation returned home last week and was given a rousing welcome.  They were in India for a period of two months and partook in an industrial programme on post-production and special effects (SFX). The Ghanaian delegation took part in a number of bilateral relation forums with stakeholders of Indian film industry to bring the integration and collaboration both countries seek.
The trip was courtesy the Indian High Commission in Accra and was aimed at helping stakeholders in both the Ghana and India movie industries to learn from each other.
By Francis Addo (Twitter: @fdee50 Email: [email protected])