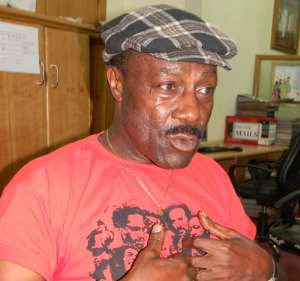 One of the failed Aspiring Presidential Candidate for the Musician Union of Ghana Gyedu Blay Ambolley has threatened to challenge the outcome of Saturday's congress.
According to him, he is heading to court to seek redress or challenged the results.
The Controversial Musician claimed that the election was not free and fair.
The Delegates and Members of the Musician Union of Ghana (MUSIGA) on last Saturday October 31st 2015 renewed the 4-year mandate of the embattled President of the Union, Bice Osei Kuffour.
Obour, as he is commonly known, secured 88 out of the 133 votes cast to retain his seat, Renowned sound engineer Appietus obtained 18 votes and highlife legend Gyedu Blay Ambuley managed to secure 22 votes out of the total valid votes cast in the Koforidua Congress .
But one of the furious contestant ,Gyedu Blay Ambolley in an interview with Ashh fm Entertainment zone on Sunday November 1, 2015 said there is a cancer of 'Mafiarism' in the Musician Union of Ghana (MUSIGA) which overturned the progress of the elections.
The Litigant Musician said the 'Mafiarism' that took place before, during and after the congress was very appalling and must be condemned.
He explained that, "things are going on in a way that is not favouring the musicians or people who have contributed a lot to music in Ghana."
He alleged that they were denied the access to reach each delegates during the campaign season.
'' They gave as an album with the lists of the delegates but because of ''Mafiarism'' they didn't include the delegates number for us to contact them on phone'' he stressed.
''The election was rigged, I will meet my legal council on tomorrow (Monday) to see how best we can challenged this electoral malpractices''.