Ga Presbytery Bands' Union Induct New Executives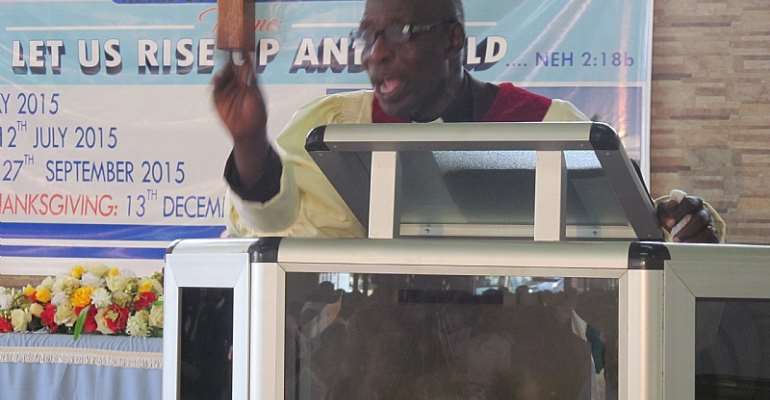 Ga Presbytery Singing Bands' Union of the Presbyterian Church of Ghana has inducted sixteen new executives to take over GA Presbytery Singing Bands' Union position at the Methodist Presbyterian Church, Teshie- Camp.
The Singing Bands in the GA Presbytery plays a major role in the church, with their unique songs, instruments and even their way of dancing.
Rev. Stephen Nii Lankwei Lawson, Director of Church Life and Nurture in the Ga Presbytery inducted the newly elected executives into office, he was assisted by National President of the Singing Bands Union, Nana Ofori Amanfo Diatuo I.
Rev. Paul Osei Nkrumah, Chaplain National Singing Bands' Union preaching on the theme: "Christ our Example; Selfless Service," urged members of the Church "to love one another."
He further admonished members to use their talents to attract more people to Christ.
He said: "The singing band plays a major role in the organization of church services within the Presbyterian Church, so he advice members in the band that in addition to singing they should also be prayerful."
In an exclusive interview with Mr. kwaku Owusu-Aidoo, current elected President of GA Presbytery Singing Band, said Singing Band is alledged to be for the old folks but now the youths have taken over the singing band, and it good for the church.
He said, "We are going to use the singing band to win lost souls back to Christ".
Rev. Stephen Nii Lankwei Lawson inducted the following elected executives into the GA Presbytery position; President -Bro. Frank Antwi, Secretary -Bro. Daniel Anteh, Asst. Sec.-Sis. Ellen Oppong Biney, Mother -Sis. Hannah Khartey, Treasure- Sis.Eva Bosompem , Financial Sec- - Nana Yaw Ohene Opare,Protocol- Bro David Djasani, Protocol- Bro Joseph Abbey, Protocol- Sis.Comfort Dwamena, First Aider- Dr. James Duah Bisiw, First Aider- Bro Alex Nti, Music Director- Bro. Ebenezer Obeng, Adviser- Bro. Victor Kofi Anim, Chaplain- Rev. Ismael Ayeng.